Here Comes Summer
World-Class Domestic Customer Service Helps Get Your Pool Cleaners Ready
It's a beautiful spring evening, and summer is on our doorstep. Whether you live in a  warm or chilly temperature zone, Water Tech customer service will help you prepare for summer. A clean, well-running pool requires continuous maintenance, including your pool cleaning equipment. Consequently, storing your pool cleaners during the winter/off-season or when not in use is critical. We all put maintenance off for most everything until it's necessary.  Therefore Water Tech would like to share some professional tips & tricks for your pool cleaning equipment. 
Certainly, Water Tech's exceptional USA-based live customer service and repair is prepared to help. Visit the exceptionally informative portal here. As a result of our high-quality, attentive domestic customer service, consumers get the most out of their Water Tech experience. In addition, visit our FAQ page and get quick troubleshooting answers to top-of-mind questions.
Read on for the best 'tips & tricks' to maintain your pool cleaners and see how our customer service can help. We'll also share which Water Tech pool vacuums are best for the pool opening season.
BENEFITS OF MAINTAINING YOUR EQUIPMENT – WATER TECH LIVE DOMESTIC CUSTOMER SERVICE IS HERE TO HELP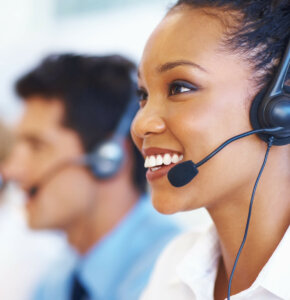 Maintenance is essential because there's nothing more frustrating than pulling out your vacuum and it doesn't work. So, properly storing and maintaining your equipment throughout the year has enormous benefits. Because optimizing your cleaning experience, ensures optimal reliability, suction power, battery life, and lifetime usage. Here are a few tips:
Be sure the cleaner is completely dry when storing;

Store cleaner in a shed, garage, or another area with a roof protected from rain, snow, etc. ;

Store cleaner away from chemicals, cleaning liquids, etc. that may cause damage; 

Store charger inside, keep it in a temperature-controlled area like a kitchen drawer or other location that does not experience extreme cold or damage by pests like mice, etc.; 

Do not leave pool vacuum charging throughout the winter/off-season; 

Do not keep the unit plugged into the wall for an extended period of time;

Make sure to turn your pool cleaner on once every 1-2 months fully charged.
Additionally, VISIT OUR FAQ PAGE for troubleshooting questions like, "my cleaner isn't charging, it won't turn on, or low suction. Further, if you need replacement parts, you can reach out to our 'parts & accessories page. VISIT OUR WEBSITE HERE. And, we are always happy to service your pool cleaner at our USA facility.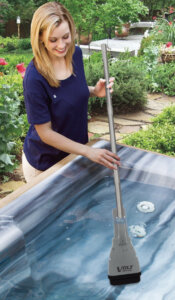 Assure Your Pool Is Ready When You Are
Water Tech wants to help keep your cleaners in tip-top shape. Hence, we created a handy, fast-access FAQ page for troubleshooting answers to top-of-mind questions. 
Indeed, there are many Water Tech pool vacuums to open your pool for the season. However, Water Tech recommends Volt Spa Vac, and the Pool Blaster Leaf Vac.
Clearly, The Volt Spa Vac is necessary for every pool owner's arsenal of cleaning equipment. This portable, easy-to-use, quick-cleaning pool vacuum is ideal for hot tubs, spas, and spot-cleaning full-size pools. Above all, the Spa Vac removes debris quickly, including leaves, sand, and algae. Furthermore, it has an all-purpose filter bag with a sectional pole; no hoses needed! Therefore you'll want to keep this handy versatile pool vacuum cleaner poolside at all times.
The Ideal Water Tech Cleaner for Pool Opening Season*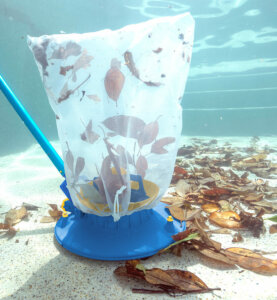 Ideal for skimming and vacuuming leaves and other various debris, the Leaf Vac is the cleaner of choice. Thus this pool vacuum is most likely the initial cleaner you'll use when opening your pool for the season. It is lightweight and conveniently attaches to any standard telescopic pool pole. With the effortless push-button operation, the Leaf Vac can run up to 3 hours on a set of batteries.
"Most importantly, have your cleaner stored properly throughout the year. "
There is nothing glamorous about maintenance. Regardless, Water Tech's reliable domestic customer service will walk you through any issues with your product. Also, find quick answers to your questions with the handy fast-access FAQ page. 
Clearly, Leaf Vac is essential for every pool owner. Because it is ideal for leaf debris removal, particularly when first opening your pool. But most importantly for regular maintenance throughout the year, especially in a wooded area.  To sum up, the Leaf Vac includes everything needed to get the job done.
*We do not recommend chemical or other cleaners for the beginning of the season cleaning, only for maintenance. 
Outsourcing Pool Cleaning Responsibilities–Technology to the Rescue – A Robotic Pool Cleaner – Truly Revolutionary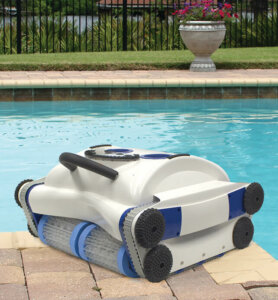 However, once the significant pool opening cleaning is underway, you must regularly maintain that clean pool environment.  Let a robot do the work for you; just sit back and relax, enjoying your pool experience. Pool Blaster CX-1 Robot allows you more time for backyard entertaining of your family and friends and less time cleaning. Thanks to Water Tech's cordless and hoseless auto robot that delivers pool innovation and convenience with cutting-edge technology. Also, find quick answers to any question you may have with our handy fast-access FAQ page. 
The convenient on-board rechargeable battery and control panel for a 6-day or just a one-time cleaning cycle is most noteworthy. Secondly, set it by the pool edge, point towards the pool, and turn on the power. Hence the Pool BlasterCX-1 will enter the pool on its own power and begin its cleaning cycle. In addition, you can select "Floor Only" or "Floor & Walls," and it climbs the walls to the waterline. Swimming Pool Learning review gives an overview of our Pool Blaster CX-1 Robot.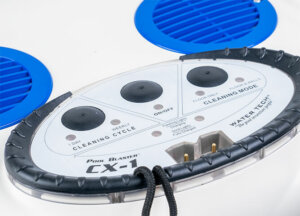 Innovative, Reliable, And Endlessly Convenient
Other Pool Balster CX-1 Robot features are the two powerful scrubbing brushes on the front and back with two high-grade belts.  Further, It has substantial debris openings, so it will clean almost any pool and leave it spotless all week. Moreover, the sizeable reusable bag easily captures small and large debris. Also, there are no scuff marks due to the soft rubber wheels. A tight weave, large filter bag extracts extremely fine debris without removing chlorine, filtering 7200 gallons of water per hour. 
Above all, it's essential to properly store and maintain this pool cleaner throughout the year, as the Pool Balster CX-1 Robot is truly indispensable. In conclusion, to optimize your cleaning experience and ensure optimal reliability, Water Tech has created serval customer service portals:
Water Tech – The Pool Innovation People
The Water Tech Corporation is an American manufacturing company and creator of the first-ever cordless Pool Blaster®. Water Tech's rechargeable cordless, hoseless pool vacuum cleaners are the number-one selling in the industry. Sold internationally in 23 countries and, in 2022, celebrates 20 years of innovation.  The company's mission is to deliver inventive pool cleaning solutions for homeowners' hot tubs, spas, and in-ground and above-ground pools. As well as for professionals for commercial use – public pools, spas, college universities, and sports facilities. Water Tech products are categorized by "best-fit" for customers' needs by type of use.  Visit www.watertechcorp.com – "Leveraging a Legacy of Leadership & Pool Innovation." 
Stay Up To Date With Water Tech's Battery Powered Hoseless Pool Vacuum Cleaners And Subscribe To Our Newsletter: