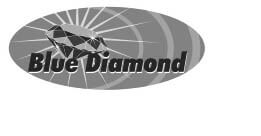 Robot Pool Cleaner
Offering The Highest Quality Pool Cleaning Experience Available
The Blue Diamond™ has been a main stay of the Blue Line, offering the highest quality pool cleaning experience available in the world today. The Blue Diamond™ is capable of cleaning large in ground pools in an hour or less using high quality parts that are protected by a four year warranty, the longest in the pool cleaner industry.
Details
The Blue Diamond™ uses the best chemical and algae resistant Polyvinyl Alcohol (PVA) brushes available, allowing it to clean any pool surface quickly and effectively. Additionally, the unit employs the Aqua Smart guidance system to target the areas of your pool most in need of cleaning, making the Blue Diamond™ up to twenty times faster than conventional robotic cleaners.
Its state of the art obstacle sensor will prevent the machine from getting stuck on ladders or other obstructions in the pool. The revolutionary beach entry detector prevents the unit from exiting the water, and when coupled with the obstacle detector, keeps your Blue Diamond™ hard at work! Included with the unit is an internal, reusable micro-filter bag that removes debris as small as two microns, keeping your pool free of sand, silt, and algae as well as larger debris like leaves and gravel.
Equipped with a specially designed Caddy Cart, the Blue Diamond™ are easily transported and stored for superior convenience. For unparalleled power, speed, and value the Blue Diamond™ cannot be beaten!
Features & Specifications
SKU# -71000RR
Caddy cart with every unit
Can clean most pools in 60 minutes, up to 90 minutes on larger pools
Can maneuver turns in the pool without walls or pistons
The Safest operating robotic cleaner, running on 24 volts
Approved for use by ETL, CSA, TUV, CE, GS
Oil-Free drive motor
"Hex Wheels"- Heavy Duty Stainless Steel supported wheel tubes
Swivel on cord- No more cord tangling
Equipped with PVA brushes that will operate in ANY type of pool surface
NO FLOATS are needed as with other robots,
Cycle Counter- Warranty testing
All motors are pressure tested under water to 1.5 atmosphere (17 ft.)
Specifications
Cord Length: 60 ft.
Factory Warranty: 4 year / 500 cycles
Suction Power: 4225 Gal / Hr
Cleaning Coverage: 5900 sq ft per hr
Unit Weight: 16.5 w/o cord
Shipping Weight: 37 lbs
Electrical Requirements: 115V/60hz
Drive Motor: 24v DC Oil Free High Speed Brushless
Pump Motor: 24v DC High Flow