Water Tech™ Precision® 2.0

Water Tech™ Precision® 2.0
The Standard for Professional Cleaning Convenience
Cordless and hoseless, outfitted with a high-capacity debris chamber and Water Tech's most powerful engine to deliver the ultimate in pool cleaning convenience for service professionals.
SKU #:50000PL
UPC #:894331001450
Vac Head Size
The Precision 2.0 features a 15″ vac head.
Service Professional's Choice
Enhanced debris capture chamber combined with powerful suction from the industry-leading Water Tech p40 heavy-duty motor makes the Precision 2.0 the most efficient and convenient commercial cleaner in its class.
Multi-Pool Versatility
Includes two vacuum heads, a standard vacuum head for vinyl pools and a flexible vacuum head with polyurethane ball-bearings designed for gunite pools, for maximum versatility. Safe to use on all pool surfaces.
Cordless
Cordless and hoseless, powered by a rechargeable lithium-ion battery. Self-contained and works independently from pool filtration system. No external power or water source needed. Attaches to any standard telescopic pole for maximum convenience and maneuverability.
Run Time
Up to two hours of continuous cleaning. Includes two rechargeable batteries and a car charging adapter for maximum convenience.
What's Included
15″ Vacuum Head w/Soft-Bristle Brush, Gunite Vacuum Head w/rollers, Vacuum Head Adapter, Wall Charger, (1) Xtreme Multilayer Filter Bag, (1) Sand & Silt Filter Bag, (1) All-Purpose Filter Bag, (2) Lithium Ion Batteries, Shoulder Strap, (1) Car charger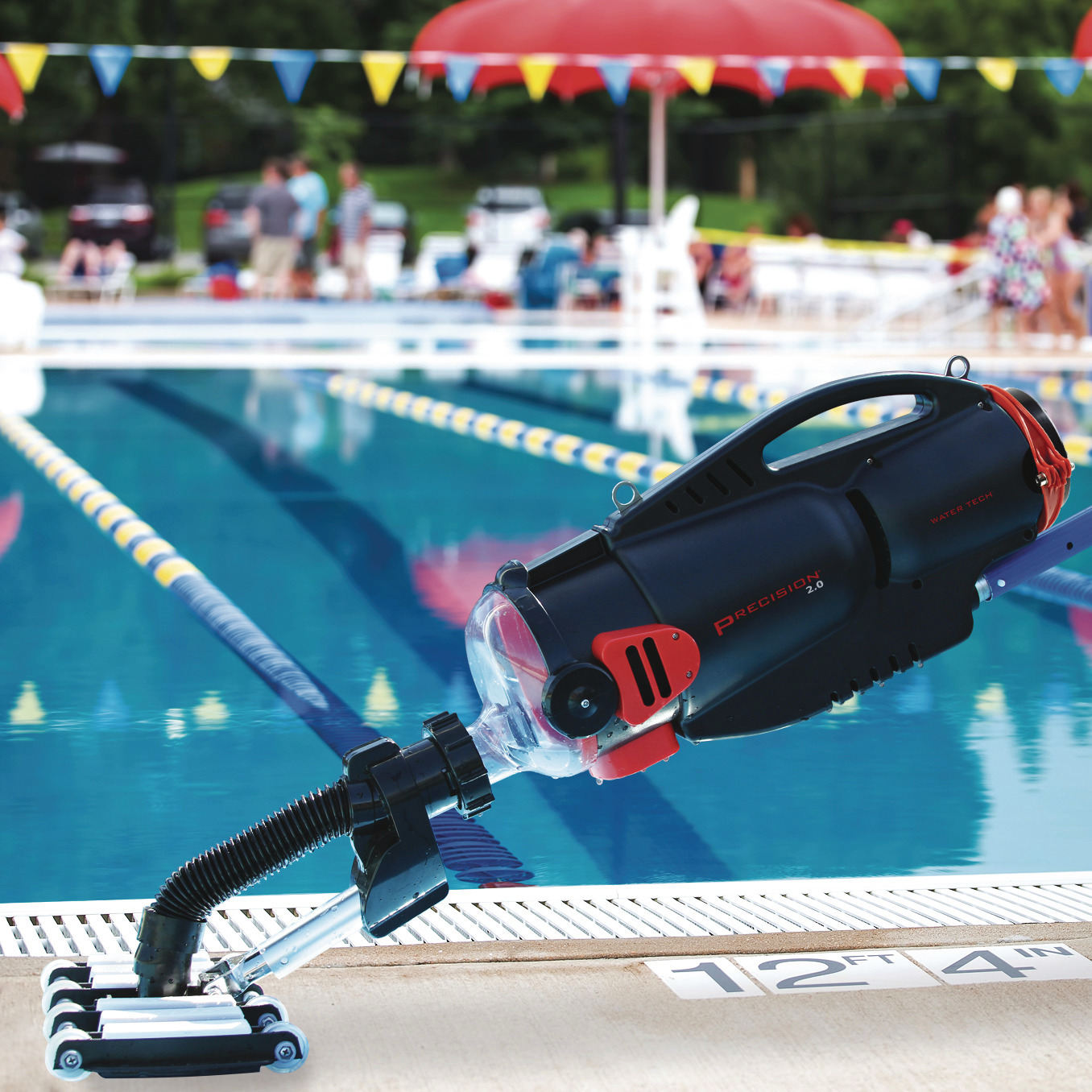 Product Specs
Includes 2 rechargeable, lithium-ion battery packs
Up to 2 hour run time
Warranty: 1 Year Limited
SKU# -50000PL
Push button ON/OFF switch
Safe for any pool surface: concrete, tile, vinyl, or fiberglass
Includes: 1 gunite vacuum head, 1 vinyl vacuum head, car charger, and shoulder strap
Includes 3 reusable filter bags: 1 Xtreme Multilayer filter bag, All-purpose filter bag, Sand & Silt filter bag
Three high volume discharge values – drain water quickly and efficiently
(2) HIGH-OUTPUT Snap- In/Out lithium rechargeable battery packs.
Unit size: L-31.00" x W-14.50" x H-9.50"
Vac head width: 15"