Water Tech™ Volt® FX-8®Li

Water Tech™ Volt® FX-8®Li
Cordless Pool & Spa Vacuum
Compact, powerful cleaning. Vacuum pool in minutes. The Water Tech™ Volt® FX-8Li is designed to clean large in-ground and above ground pools quickly and efficiently.
SKU #:34000KL
UPC #:894331001856
Vac Head Size
The Volt FX-8 is equipped with a 13″ vac head.
Whole Pool Cleaner
Spot-clean in seconds, clean entire pool in minutes. Ideal for both in-ground and above-ground pools.
All-Purpose Cleaning
The filter bags included with Water Tech™ Volt® FX™-8 Li capture algae, sand & silt other vacuums leave behind as well as leaves and larger debris before they reach the skimmer, filter or pump.
Increased Power
Enhanced motor delivers the strength needed to clean quickly and efficiently.
Run Time
Rechargeable, lithium-ion battery delivers up to 60 minutes of continuous cleaning.
Easy Operation
Push-Button operation. Lightweight and easy to use by hand or attach to any standard telescopic pool pole.
What's Included
13″ Vacuum Head w/Soft-Bristle Brush, Wall Charger, (1) Xtreme Multilayer Filter Bag, (1) All-Purpose Filter Bag (1) Head & Hose Attachment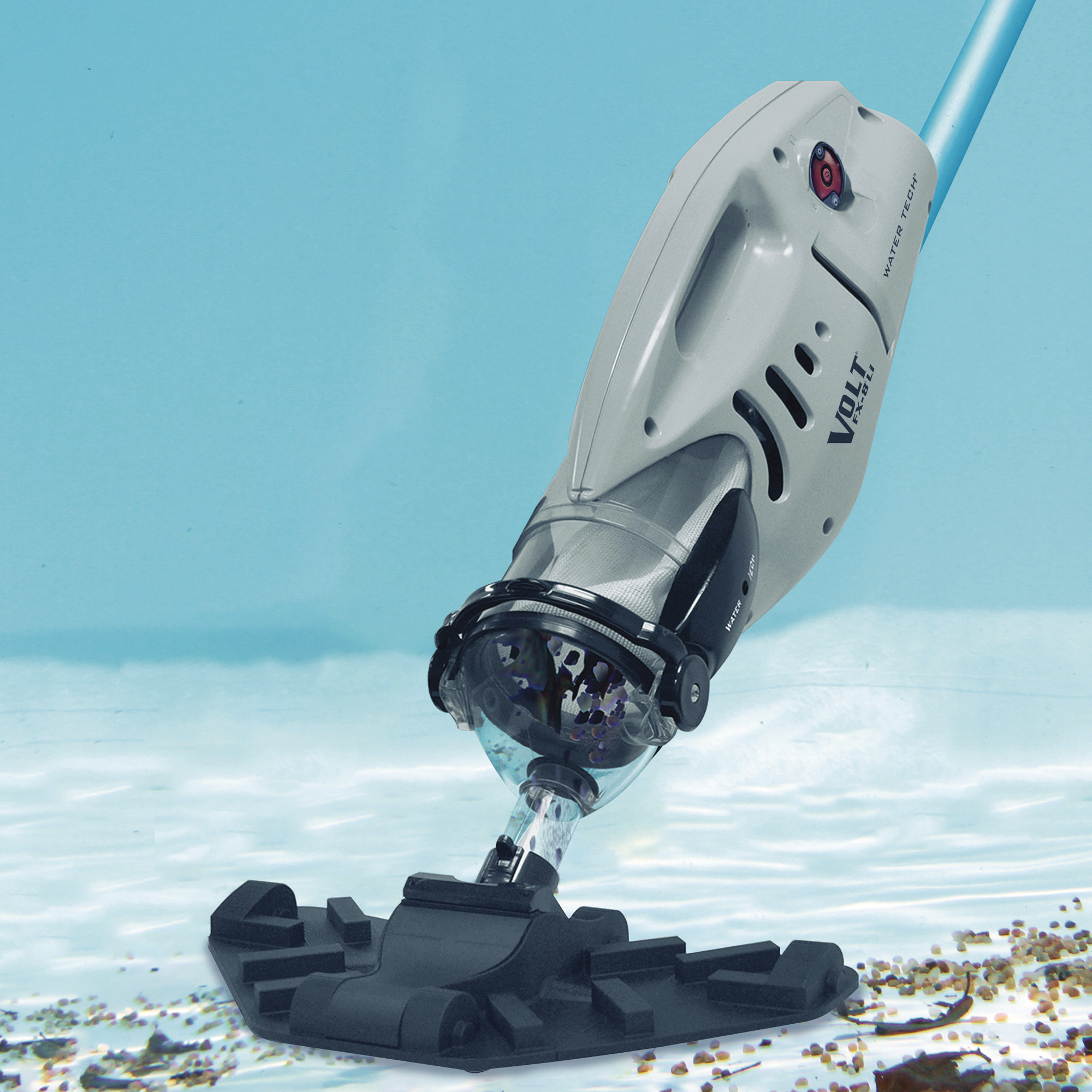 Product Specs
Rechargeable, Lithium Powered
Up to 60 Minutes Run Time
Warranty: 2 Year Limited
Power Rating 500
SKU# -34000KL
Push button ON/OFF switch
Includes 2 filter bags: 1 Reusable Xtreme Multilayer Filter Bag that removes leaves, debris, sand & silt, 1 Reusable All Purpose Filter Bag
Head & Hose Attachment for shallow water cleaning
Vacuum head width: 13"
Includes crevice corner nozzle and scrubbing brushes
Unit Size: L-23.75" x W-12.75" x H-7.50"
Unit Weight: 5.55lbs
Minimum operating depth:14.25" @ 45 degree angle
Volt FX-8 is designed to clean the largest in-ground pools easily and effortlessly, the Volt FX-8 uses an Ultra-High Flow pump to provide more power and suction than the other cleaners in its class. Volt FX-8 comes with a versatile 13 inch flexible vacuum head, the integrated spot cleaning/corner nozzle, or the easy-to-clean. With its larger debris chamber and reusable, high capacity filter bag provides 30% more debris capacity than other vacuums in its class.
This product is outstanding! I wish I would have purchased it sooner. It easily does exactly what I hoped it would do. Its performance and results are amazing!
Kevin P.
North Smithfield, RI