Spas or Hot Tubs – Easier To Keep Them Running Even In Chilly Months
Caring For Your  Spa or Hot Tub Throughout The Year – Professional  Maintenance Tips & Tricks From Water Tech
While many choose to close their spas and hot tubs for the winter, it's easier to keep them running throughout the year. Running them during chilly months is easier than shutting them down for the season. Winter and fall are beautiful seasons to use a Spa with minimal maintenance. The hot water and massage breathe life back to frozen feet and aching joints. Instead of winterizing for the cold, why not make the most of your investment and enjoy it? Using a Spa or Hot Tub in chilly winter months is a unique opportunity you will want to experience. The contrast of the steamy, hot water and the invigorating cold provides a unique relaxation opportunity. Additionally, it's a great way to enjoy snowy winter scenery or changing seasons.
These maintenance tips and tricks will keep your Spa or Hot Tub running smoothly and immaculately throughout the year. So read on and gain some insightful information for a smooth-running Spa.  From the folks at Water Tech –The Pool Invention People the first in rechargeable, cordless, hoseless pool & spa vacuums.
CLEAN WATER, CLEAN SPA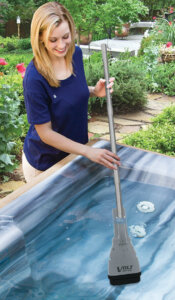 We recommend cleaning out your Spa or Hot Tub every 8-12 weeks when in use. Also, be mindful about what you personally take into the tub. It only takes a few seconds to rinse off in the shower before entering your Spa, so you're not taking in any lotions or bodily oils into the tub.
Likewise, it's essential to maintain a regular cleaning schedule for water and filters. And while doing this routine maintenance, do a quick clean of the tub. The rechargeable, cordless, hoseless pool & spa vacuum Water Tech Volt™ Spa Vac is ideal for an easy-to-use quick cleaning. The Spa Vac removes debris quickly, leaves, sand, and algae. Comes with an all-purpose filter bag with a sectional pole; no hoses needed!
So before the temperatures start to plunge and the snow starts to fall, take the opportunity to drain and thoroughly scrub the interior. Whether running 365 or choosing to shut down for winter (See Cold Weather Winterizing), prepare for the season ahead. Issues that may arise from failing to do this may cause complications to fix in freezing temperatures.
If you're already on top of maintaining your water, don't panic. Winter doesn't mean you have to chuck loads of chemicals in your tub. You do the same as you do in summer. However, you just need to be more conscientious about maintaining it due to the lack of opportunity to drain and refill your tub.
A GOOD COVER IS A GOOD SPA or HOT TUB INVESTMENT
The cover is critical in minimizing heat loss throughout the year but essential in winter and chillier months.  Secondly, a Spa cover is good for keeping all unwanted things out of the tub, like; debris, bugs, and cold air. Above all, the best covers also keep the good stuff in the tub, like; warmth and water. The cold, dry air can make your water evaporate quicker in winter. Heat loss can make your heater work even harder to keep your water at a proper temperature.
A cover that's in poor condition or not appropriately secured will ultimately cause you to spend more money. A proper cover will maintain the temperature of your spa or hot tub and save costly damage to equipment. Further, a good cover should be waterproof, with a snug fit that creates a tight seal. And don't forget the cover latches. If broken, replace them with new buckles & locks. Straps should be snug and secure. Straps form a tight, steam-blocking seal against the Spa shell. Ensure the cover is fastened tightly each time your Spa or Hot Tub is not in use, and keep it free of ice and snow with a broom or brush to prevent rips and tears.
WE ALL NEED A BLANKET ESPECIALLY IN WINTER – INSULATION 
A well-insulated cover is also essential for keeping cold air out and warm air in while your Spa is not in use. A thermal blanket is also helpful in maintaining the temperature of the water. A floating thermal blanket rests directly on the water's surface and adds an extra insulation layer. Using it in combination with an excellent fitting cover through the winter will help your Spa retain its temperature. Additionally will save money on energy bills and help prevent the water and pipes from freezing. Both are relatively inexpensive and can last season after season.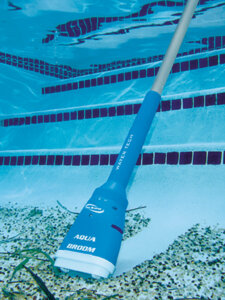 MAINTAINING SPA WATER  & WATER LEVELS
Keeping the water in your Spa warm and at the proper level saves energy and prevents damage. Freezing can damage your Spa as well as the pipes. To prevent this, set the timer to run the heater every 20-30 minutes so warm water is constantly running through the pipes. Also, check the water temperature frequently. Additionally, too little water will also prevent the pump from circulating the warm water, risking ice damage. Regularly check the water level and keep a hose handy for a quick fix.
 Checking water level gives an excellent opportunity to clean the tub with Water Tech's Aqua Broom. The cordless, hoseless pool & spa vacuum is convenient for Quick-Set or Soft-Sided pools. A clean Spa or Hot Tub benefits the longevity of your filter. 
At colder times of the year, your water is more likely to evaporate faster than at warmer times of the year. If your water level drops below the skimmer line, it won't circulate the water properly. Therefore an even water temperature throughout the whole tub is crucial. Above all, circulation is vital to prevent freezing pipes.
"Turn Down The Jets, Especially In Winter. Jets get some of their power by using the outside air, which brings down the water temperature. So by all means, have the jets on, but don't overdo it. Agitating the water exposes it to more cold air, increasing the fall in temperature."             

States Water Tech Director of Marketing Matthew Chilton
BE PROACTIVE – COLD WEATHER PREP & WINTERIZING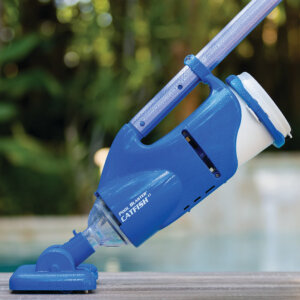 Whether you choose to close your Spa or Hot Tub for the season or keep it open, being proactive about maintenance is essential. Subsequently, it prevents damage to pipes, plumbing lines, equipment, and the spa itself, ultimately saving you money for costly repairs. If you choose to close your Spa, make sure it's properly winterized.  Here is some helpful information: Steps for Cold Weather Prep & Winterizing Guide for Your Hot Tub.
In addition, regular maintenance and cleaning will extend the longevity of your Spa. Water Tech has many pool and Spa accessories and cordless, hoseless pool & spa vacuums. For larger Spa's and small pools, the powerful, lightweight Pool Blaster Catfish® might be just what you need. 
Further, keep snow and other debris from piling up on the cover. And, remember to routinely check the water levels and filters, even when not in use. If you choose to keep your Spa open, routine maintenance is still necessary, whatever the weather is outside. Most importantly, keep the water clean and ready to use whenever you are prepared to enjoy your Spa. 
STOCK UP ON SUPPLIES
Although it may be cold outside, the Spa or Hot Tub water is still warm, and microorganisms and other bacteria can still live in it. Make sure to stock up on sanitizers, test strips, and other cleaning supplies to use throughout the year. Essential to prevent buildup of bacteria, algae, or other issues; saves you a snowy or inconvenient trip to the store. 
These tips and tricks ensure a smooth running Spa or Hot Tub throughout the year, whatever the weather is outside.  Therefore, allowing maximum enjoyment without hassles. Stay on top of pool & spa recommendations throughout the year by joining the Water Tech Newsletter.