Water Tech Volt Portable Pool Vacuums Pave The Way For Summertime Fun
 Upgrading Your Backyard Environment for A Safe, Fun Swimming Season & Water Tech Portable Pool Vacuums
Summer is a great time to enhance your backyard and pool environment. and keeping a clean pool is essential for enjoying that during the summer months. Certainly, Water Tech Volt portable pool vacuums are a convenient and efficient solution for a clean & well-maintained pool. This is where Water Tech's advanced technology comes to the rescue. The Volt rechargeable manual pool vacuums are available in two models: Volt® FX-4 and Volt® FX-8. Choose the one that suits the size of your cleaning job. If you're looking for a more convenient solution, choose the Water Tech Volt 550, a cordless, rechargeable residential robot.Volt pool cleaners offer efficient and effective cleaning to quickly and easily clean your pool.  Exclusively Available At Your Local Pool & Spa Supply Store. Read on for more tips and options for a cleaner pool and upgrading your backyard environment for summer fun.
Expanding Your Pool Renovation–Improves Property Value
Summer brings a lot of excitement, especially during the prime vacation months from July 4th to Labor Day. It's a perfect time to enhance your pool experience and make the most of the season. Upgrading your portable pool vacuums and transforming your backyard environment can provide a carefree, enjoyable staycation summer.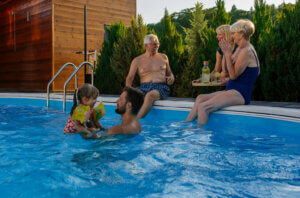 In addition to upgrading your portable pool vacuums, cost-effective renovation ideas can help jazz up your pool and backyard. Consider adding new outdoor furniture, decorative lighting, or vibrant plants to create a welcoming and relaxing atmosphere. Further, consider installing a poolside grill or a beverage bar area for entertaining guests. Not to mention building a dedicated poolhouse, resurfacing tired old concrete, or simply replacing the vinyl pool liner. Undoubtedly this adds value to your property.
Water Tech Leverages A Legacy Of Leadership In The Industry
Whether you opt for Volt FX-4 or Volt FX-8 handheld pool vacuum or Volt 550 robot, Water Tech offers uncomplicated solutions. Water Tech's Volt pool vacuums make pool cleaning hassle-free. With their cordless and rechargeable features, you can say goodbye to dealing with cords, hoses, skimmers, and pumps. Traditional vacuum systems can disrupt the pool's chemical balance and temperature. However, the Water Tech Volt rechargeable portable pool vacuums operate independently of your primary pool filter. Hence no worries about debris filtering into the pool or need for backwashing, ensuring a more convenient cleaning process.
In addition, Water Tech's pool cleaners reduce the trips you need to make to the pool shed. Consequently, this allows you to quickly and effectively clean your pool without the hassle of traditional pool cleaning methods.   Water Tech Leverages a Legacy of Leadership & Pool Innovation to the industry bringing exceptional pool cleaners. Water Tech Volt offers a range of manual pool vacuums to simplify pool maintenance. The Volt rechargeable portable pool vacuum is available in Volt FX-4 and Volt FX-8.
The Water Tech Volt Fx-4 Cordless Handheld Spa & Pool Vacuum–Incorporates Durability And Power.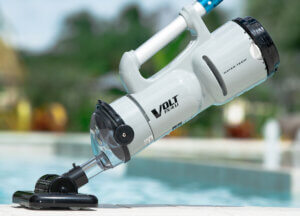 The Water Tech Volt FX-4, a handheld pool cleaner, is lightweight and allows easy maneuverability and movement freedom. It can be attached to any standard telescopic pole, making it compatible with different cleaning setups. Above all, this vacuum utilizes a rechargeable lithium battery, providing a runtime of up to 45 minutes. Further, it is suitable for medium-sized above-ground and inground pools and smaller areas like fountains or spas.
In addition, the vacuum head measures 7.5 inches and designed to clean various types of debris effectively. The Volt FX-4 uses reusable filter bags to capture dirt, gravel, sand, leaves, and even algae. The vacuum head is removable, allowing for spot cleaning and reaching areas that are difficult to access with other vacuums.
Further, the easily rechargeable internal lithium battery pack recharged in approximately 4 hours. Ensuring the vacuum is ready for use whenever needed, without the hassle of dealing with hoses or power cords. Exclusively Available At Your Local Pool & Spa Supply Store 
Water Tech™ Volt FX-8 – Cordless, Rechargeable, Powerful, Compact  Manual Pool Vacuum.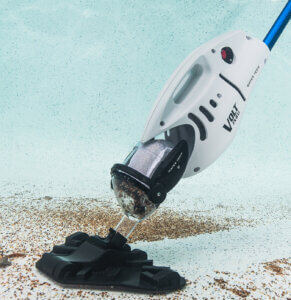 The Water Tech™ Volt FX-8 is a cordless, rechargeable, powerful manual pool vacuum. Consequently, it cleans large in-ground and above-ground pools efficiently. Further, it has an 'Ultra-High Flow Pump,' which offers more power and suction than standard pool cleaners.
Indeed, one of the important features of the Volt FX-8 is the versatile 13-inch flexible vacuum head. This allows for easy maneuverability and enables you to clean a wide surface area in a shorter amount of time. In addition, this handheld pool vacuum includes an integrated spot cleaning/corner nozzle. In other words, it easily reaches and cleans hard-to-reach areas of your pool.
The Water Tech Volt FX-8 boasts a larger debris chamber and a reusable, high-capacity filter bag. Hence it can hold 30% more debris than other popular pool cleaners. Therefore reducing the frequency of emptying the chamber and increasing the efficiency of the cleaning process.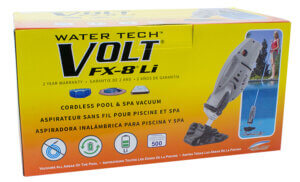 Cordless, Rechargeable Volt Handheld Pool Vacuums Saves Cleaning Time
Being cordless and rechargeable, the Volt FX-8 provides convenient mobility without the need for cumbersome cords or hoses. Subsequently, this feature allows you to move freely around the pool without any restrictions.
In short, the Water Tech™ Volt FX-8 makes pool cleaning a breeze. Further, its powerful suction, flexible vacuum head, and ample debris capacity aim to simplify pool maintenance. As a result, it saves you time and effort. Exclusively Available At Your Local Pool & Spa Supply Store 
"By far the easiest method for cleaning the bottom of our pool.  We wanted a pool vacuum so we no longer have to use the hose plugged into the skimmer.   We unboxed the Water Tech Volt Pool cleaner and tried out our new pool tool that easily picked up dirt and debris. Most importantly, Water Tech manual pool vacuums are rechargeable, so they don't have cords or hoses.  Above all, our cleaning time is just a fraction of what it used to be." A Satisfied Customer.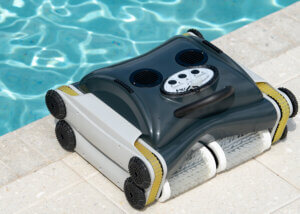 Water Tech™ Volt® 550 Battery Powered Robot–The Cordless Robot Pool Cleaner
The Water Tech Volt 550, a cordless, rechargeable autonomous pool cleaning robot, offers innovative features for maintaining your pool. Designed to clean your pool's floor and walls, providing a comprehensive cleaning experience. 
Undoubtedly, one of the notable features of the Volt 550 is its onboard programmable cleaning cycles. You can set daily or weekly intervals for the robot to perform its cleaning cycle, lasting up to four hours. As a result, you to customize the cleaning schedule according to your needs. Additionally, equipped with a high-capacity filter bag that can capture various types of debris, including sand, silk, and dirt. Therefore the bags ensure that your pool remains clean by effectively filtering out large and small particles.
Most importantly, the onboard rechargeable lithium battery offers cordless operation, eliminating external power sources or cumbersome cords. Consequently enhancing convenience and flexibility during the cleaning process. Secondly, the robot has a three-year limited warranty, ensuring its quality and durability. Exclusively Available At Your Local Pool & Spa Supply Store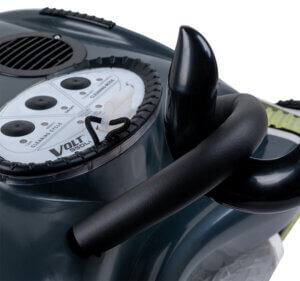 Technology To The Rescue– A Robotic Portable Pool Cleaner 
Above all, the Water Tech Volt 550 design allows easy, foolproof operation. To start the cleaning process, simply set the robot by the pool edge, facing the pool, and turn on the power. It will autonomously enter the pool and initiate its cleaning cycle. You can select "Floor Only" or "Floor & Walls," allowing the robot to climb the pool walls up to the waterline. Read how Water Tech brings 20 Years of Water Tech Pool Innovation to its entire product line.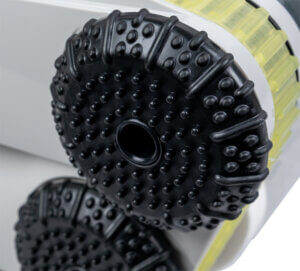 Secondly, the high-grade belts with two powerful scrubbing brushes on the front and back effectively clean your whole pool. Furthermore, significant debris openings enable it to clean almost any pool, soft rubber wheels prevent scuff marks on pool surfaces.
Above all, a sizeable reusable filter bag can capture small and large debris. Thus the robot ensures efficient cleaning without emptying the bag frequently. Moreover, the filter bag has a tight weave that can extract extremely fine debris without removing chlorine from the water. Hence, its high filtration rate of 7200 gallons of water per hour contributes to a clean and clear pool. To sum up, the Water Tech Volt 550 offers innovative features, reliability, and convenience for pool cleaning. Above all, advanced technology and autonomous operation allow you to spend less time cleaning and more time enjoying your pool. Exclusively Available At Your Local Pool & Spa Supply Store
Upgrading Your Portable Pool Cleaner Is An Essential Part of Backyard Renovations
Indeed, maintaining a clean and well-maintained pool is crucial for an enjoyable summer season. Water Tech's Volt handheld pool vacuums and residential robots are excellent choices for an efficient and hassle-free cleaning experience. A review from Marina Pool, SPA & Patio: Is It Time to Consider a Cordless Robotic Pool Cleaner?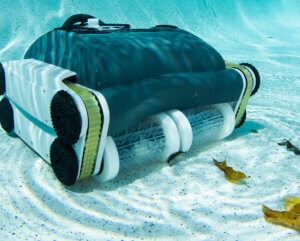 Water Tech's Volt manual pool vacuums provide a convenient and effective solution for keeping your pool clean throughout summer. These manual pool vacuums offer several advantages over traditional vacuum systems, making pool maintenance a breeze. In short, the handheld ability allows for easy maneuverability and precise cleaning in hard-to-reach areas. Accordingly, their powerful suction capabilities can effectively remove debris, leaves, and other particles from your pool, ensuring crystal-clear water.
Secondly, Water Tech's residential robot is another option for automated pool cleaning. Specifically designed to easily navigate your pool and clean the floor, walls, and waterline efficiently. They can operate independently, saving you time and effort while providing thorough cleaning performance.
Investing in Water Tech's Volt technology ensures your pool remains clean and inviting throughout the summer. With a well-maintained pool, you can enjoy endless hours of swimming, relaxation, and outdoor fun with family and friends. Starting the summer with a clean pool sets the stage for a fantastic pool season. Consider utilizing these modern cleaning technologies to simplify your pool maintenance routine and maximize your enjoyment of your pool all summer. Exclusively Available At Your Local Pool & Spa Supply Store 
Water Tech, Lighter, Faster, Smarter. A Pool Cleaner To Fit Your Needs
Water Tech offers a variety of cordless pool and spa cleaners designed for various cleaning needs. Which pool vacuum meets your needs;  Water Tech Volt FX-4, or The Water Tech™ Volt FX-8  cordless pool vacuum? However, for a pool cleaning that does the work for you, select The Water Tech Volt 550 Cordless Battery Operated Robot.  Find a Water Tech pool vacuum that best fit your need; products are categorized by "Type of Use Classification."
Water Tech – The Pool Innovation People
The Water Tech Corporation is an American manufacturing company and creator of the first-ever cordless Pool Blaster®. Water Tech's rechargeable cordless, hoseless pool vacuum cleaners are the number-one selling in the industry. Sold internationally in 23-countries and celebrating 20 years of innovation. The company aims to deliver inventive pool cleaning solutions for homeowners' hot tubs, spas, in-ground and above-ground pools. And for professionals' commercial use – public pools, spas, college universities, and sports facilities. Water Tech products are categorized by "best-fit" for customers' needs by type of use. Noted for USA-based Support Customer Service, visit the Customer Service Portal.  Or, for quick answers to your questions, access the handy fast-access FAQ page. Visit www.watertechcorp.com – "Leveraging a Legacy of Leadership & Pool Innovation."
Stay Up To Date With Water Tech's Battery Powered Hoseless Pool Vacuum Cleaners And Subscribe To Our Newsletter