Holiday Gift-Giving Guide For Pool And Spa Enthusiasts From Water Tech
Dive into the holiday spirit with Water Tech's Festive Gift-Giving Guide for the Pool Enthusiasts in Your Life!  As winter cozies up, it's time to swap those shorty shorts for warm winter coats. Whether you're surrounded by snow or enjoying milder days, the holiday season is upon us! 🎁✨ And what better way to spread joy than with the perfect gift for your favorite pool and spa lovers? A pool-related gift is an absolute win for someone special who's a bit particular about their pool pleasures!  Explore our lineup, featuring gems like the Pool Blaster Aqua Broom XL Ultra, Centennial Li, Catfish Ultra Gen 2, CX-1 Robot, Dynamo Skimmer Basket, Max CG, Millennium Li, or Volt Leaf Vac Recharge. And that's not all—check out our range of pool accessories that will bring smiles to the young and the young at heart.
This holiday season, make a splash with thoughtful gifts that warm the heart and add a touch of poolside joy! 🎄🌟
Read on…..🌈💙
WATER TECH POOL BLASTER & VOLT HOLIDAY GIFT-GIVING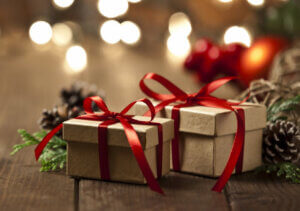 Dive into the joy of gifting-giving with Water Tech's Pool Blaster & Volt! 🎁 Our Water Tech team has carefully selected some of our customers' absolute favorites for this year's Holiday Gift-Giving Guide. We're on a mission to transform pool maintenance into a delightful experience, ensuring every pool enthusiast enjoys a stress-free and crystal-clear pool lifestyle. Because let's face it, who wants to relax in a dirty pool, spa, or hot tub?
Our holiday gift-giving selection features the incredible cordless pool cleaners from Pool Blaster & Volt. Both product lines are designed and engineered with care right here in the USA. 🇺🇸 Get ready for hassle-free pool maintenance and a gift that keeps the good times flowing! 💦✨
The Water Tech Holiday GIFT-GIVING GUIDE Is Here To Help You. 
Certainly, our gift-giving guide will make holiday shopping easier this year. You will find something for pool enthusiasts on your pool list, from daily to yearly maintenance to general cleaning. And let's not forget you! 'Tis the season for spreading love and joy through thoughtful gifts! 🎁 If you've got a pool enthusiast in your life who's all about pool life, we've got the perfect solution. 
Our Water Tech HOLIDAY GIFT-GIVING GUIDE is your go-to source for making this holiday season stress-free and full of smiles. 🎄 There's something for everyone on your pool list—including you! Because you deserve a treat, too! Happy holiday shopping! 🌟✨
Holiday Wonders – Robotics The Future –  Pool Blaster CX-1 Cordless Battery-Powered Robot Pool Cleaner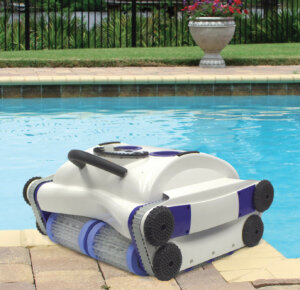 As the holiday shopping frenzy kicks in, let's talk about the real magic of gift-giving—it's all about making someone feel special and appreciated. 🎁 While pools are all about fun, sometimes the most meaningful gifts are the ones that bring both joy and practicality. Picture this: a gift that gives you a splash of fun and makes daily pool life a breeze.
Here's a friendly tip: why not team-up with neighbors or friends to make a big statement? And a gift like the CX-1 Robot pool cleaner makes that statement. It's a game-changer! This little marvel is the industry's most advanced cordless residential pool robot. Further, it's also cordless and rechargeable, with features that will leave you in awe. So, let's make this holiday season both fun and functional! 🎄✨ Dive into the joy of giving with gifts that make a difference.
This year, give the gift of time with the  Pool Blaster CX-1 Robot cordless automatic pool cleaner. Robot cleaners are something pool enthusiasts only know they're missing out on once they've used one for a season. Indeed, Water Tech's battered-powered CX-Robot delivers pool innovation and convenience, giving your gift recipient more time with family and friends.
Discover Convenience With Pool Blaster Catfish® Ultra (Gen2) – An Ultimate Cleaning Partner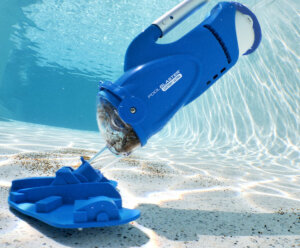 Lightweight yet powerful and versatile for all pools, spas & hot tubs. The agile Pool Blaster Catfish Ultra  portable pool cleaner features an updated body design. The increased debris chamber makes maintenance convenient, holding more dirt than a standard pool cleaner. The  Catfish® Ultra is an ideal portable pool cleaner for regular cleaning and tackling those unreachable spots. Hence, it's a cost-effective way to spot-clean the dirt a robot pool cleaner leaves behind, including pool steps and platforms.
The Catfish Ultra's wide vacuum head quickly covers more ground with each pass, making overall maintenance a breeze. Undoubtedly, the lightweight, push-button design makes it convenient to use by hand or attach to the included 4-piece pool set. Catfish® Ultra (Gen2) is an extraordinary pool-cleaning companion for Spa & hot tubs. Paired with the Pool Blaster CX-1 Robot, this dynamic duo offers cost-effective, cordless, hoseless, battery-powered cleaning.
Water Tech has a fantastic selection in this year's Gift Giving Guide of products that fit your budget! If you're on the hunt for the ideal holiday gift for that special pool enthusiast, your search ends right here. 🎁✨
Best In Ground Pool Cleaner For Deep Cleaning – Water Tech Pool Blaster MAX Li CG
The Water Tech Corporation manufactures the original groundbreaking iconic Pool Blaster® Max™.  The first-ever cordless, hoseless pool cleaner makes an excellent gift. Most importantly, our pool vacuum buyers found the following battery-operated pool vacuums a superb choice for larger to medium debris cleaning. 
Pool Blaster Max CG is one of the best inground pool cleaners for in-between professional service cleanings or in place of professional pool cleaners. Pool Blaster Max Li CG's maneuverability ensures clean corners. The removable 12.75" efficiently covers more ground quickly for various pool sizes. With impressive power and effectiveness, it's an ideal option for professional-level cleaning. Whether for regular pool maintenance or more challenging cleaning jobs, this cleaner consistently delivers outstanding results.
Water Tech Sets The Standard For Professional Cleaning Convenience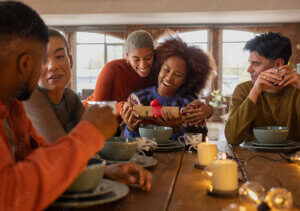 The Pool Blaster Max Li CG excels in efficiently deep cleaning larger pools with its 'Commercial Grade Cleaning' capabilities. Water Tech also provides a range of hoseless, cordless, battery-operated Commercial Pool Vacuums. Consider investing in in-home professional pool cleaning, which can make an excellent group gift. It is a fantastic way to express gratitude collectively for that pool enthusiast on your list. To a boss, a valued employee, a friend, or a family member is to appreciate them through a fabulous pool gift. 🎁
Appropriate Mid-Sized Option For Above-Ground Or Intex Pools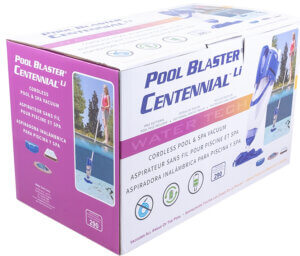 The Centennial canister-style hose-free pool vacuum for above-ground pools has a large capacity, easy-to-empty transparent debris chamber.
Suitably, it's perfect for quick and easy cleaning for spas or Intex above-ground or in-ground swimming pools. Further, there is no need to attach cords or hoses. You can spot-clean in seconds or clean the entire pool. The Pool Blaster® Centennial™ Li has an Advanced Cone Filtration System with XL Debris Chamber.
In addition, the 10.5″ vacuum head for general cleaning is removable, exposing an angled head for hard-to-get areas. Because it's lightweight, you can use it by hand for last-minute clean-ups before guests arrive. Above all, it can capture mixed-size debris–acorns, twigs, dirt, and sand with push-button ease.
Cordless Pool Vacuum for Above or Inground Pools– Pool Blaster® Millennium Li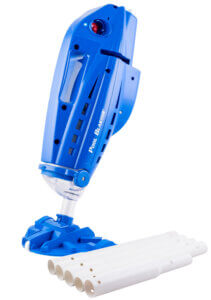 Pool Blaster® Millennium Li has a removable scrub brush head to expose an angled head for hard-to-reach areas. Ideal for soft-sided pools. Millennium's Water Tech motor design enhances the delivery of increased suction power. It features a larger debris capture combined with strong suction, captures more debris than other entry-level cleaners. Water Tech Pool Blaster® Millennium, a hoseless, battery-powered pool cleaner, is ideal for in-ground pool and above-ground pools. Further, it comes with a five-piece sectional extension pole.
Are you worried About Leaves? VOLT ® LEAF VAC RECHARGE – Skims from Top to Bottom.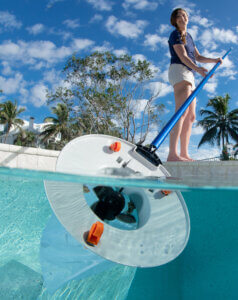 The Water Tech™ Volt® Leaf Vac Recharge is the leading leaf cordless pool cleaner with a high-capacity filter bag. Indeed, this gift is ideal when your pool enthusiast has trees in their yard or neighborhood. Or if they leave their pool or spa open for an extended season. Leaves will inevitably find their way into your pool. Further, they can stain your pool and jam up the filtration system if left over the winter. The Water Tech Volt Leaf Vac Recharge does both leaf skimming and bottom cleaning. It is hoseless and now rechargeable.
Additionally, a high-capacity filter bag saves time, and the smart water sensor turns the pool vacuum on/off automatically. Because it's hoseless, it avoids blockages experienced with "Pressure Side" (garden hose) leaf pool vacuums. Most Importantly, Volt Leaf Vac Recharge features Water Tech's proprietary Safe-Blade System to assure worry-free operation.
Find It Exclusively At Your Local Pool & Spa Supply Store Here
Life-Changing Spa And Hot Tub Health Benefits Unlock A Wellness Experience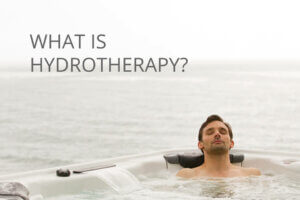 People on your gift list who prioritize health and own a pool, spa, or hot tub stand out as notable participants. Pool enthusiasts are actively engaging in the growing trend of home wellness strategies. This trend is particularly prominent in the post-pandemic era. Homeowners are expanding outdoor spaces for recreation and health, incorporating hot tubs, spas, and pools. However, the truth is no one wants to relax in a dirty tub. That's where Water Tech comes in with handheld pool cleaners, ensuring a clean and enjoyable year-round experience in your spa and hot tub. 
Hydrotherapy spa & hot tub health benefits are well known. So, how do you keep a spa or hot tub running smoothly and immaculately throughout the year?  Learn more about Spas & Hot Tubs; "Easier to keep Running In Winter." Cold climates have the opportunity to keep their hot tubs or spas running all year.  Why not encourage your pool enthusiast to keep the hot tub or spa through the cold months with a gift that keeps giving?   The Pool Blaster® Aqua Broom XL Ultra efficiently maintains your spa & hot tub or swimming pool, giving you more relaxation and wellness benefits.
The Ultimate  Spa & Hot Tub Vacuum – Pool Blaster® Aqua Broom Xl Ultra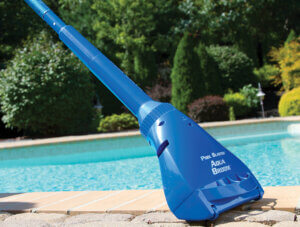 This cordless spa & hot tub pool vacuum operates off of battery power. The ultimate convenience for hot tubs as it allows you to essentially "water vacuum" your entire spa in only a minute or two. If hot tub owners do not have one of these already, it's because they didn't know it was an option. Water tech produces similar larger pool cleaners for swimming pools; see the above listings. Aqua Broom XL Ultra is the perfect size for hot tubs and a top-rated spa & hot tub pool vacuum.
The Aqua Broom XL Ultra  portable, cordless pool cleaner easily spot-cleans hard-to-reach areas. The Aqua Broom XL Ultra is a convenient and affordable gift for Quick-Set and soft-sided pools.
Look Mom–No Hands Pool Blaster® Dynamo® Skimmer Basket Inground Pool Cleaner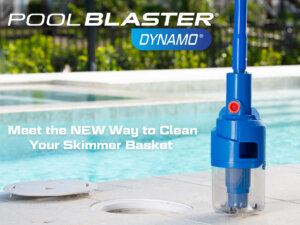 The hose-free battery-operated Pool Blaster Dynamo is a new way to clean a skimmer basket. This inground pool cleaner offers an automated, hands-free, and hassle-free cleaning experience. Keeping the skimmer basket clean without touching what is in it makes routine maintenance effortless without getting hands dirty.
The Pool Blaster Dynamo makes a unique & revolutionary pool enthusiast gift with Water Tech's latest technology. Your gift recipient will happily say goodbye to the hassle of dirty hands while emptying the skimmer basket. Consequently, it stops tiresome bending over the pool skimmer with its clever automated design. The Pool BlasterDynamo inground pool cleaner accessibility ensures that anyone can efficiently operate it, improving safety. A stand-out feature is its hands-free debris disposal, eliminating the need for manual handling. Like all Water Tech products, they are designed and engineered in the USA.
Water Tech Gift Giving Guide Perfect Stocking Stuffer – Pool Blaster® Grit-Gitter®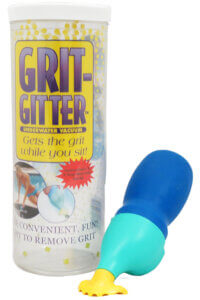 Looking for the perfect stocking stuffer that brings the sparkle to your spa? Say hello to the Pool Blaster® Grit-Gitter®—a nifty underwater cleaning superhero!
🎁 This little gadget is more than a gift; it's a hand-powered cleaning champion! The Pool Blaster Grit-Gitter works its magic in tight corners and even your filter chamber—because clean water is a must! "Gets the grit while you sit!" That's right—no need to leave your spa oasis to tidy up. No batteries, no poles, no cords, and definitely no hoses! Keep it right by your hot tub for instant, hassle-free access. Perfect for those tricky corners and hard-to-reach spots. A wonderful stocking stuffer for your pool enthusiast.
More Stocking Stuffers – Fun & Practical Pool And Spa Accessory Gift-Giving –Pool Blaster Pool Pouch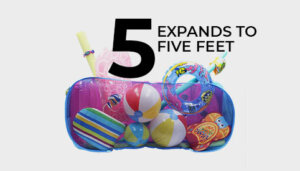 🎁 Pool enthusiasts will love the ultimate organizer for the pool, patio, and backyard fun! This nifty pouch is for storing all pool accessories. Pool Blaster® Pool Pouch® is a game-changer for keeping floats, balls, inflatable toys, patio gear, and more in one place. With its durable honeycomb stitched construction, you can attach it to pool sides, and fences or let it stand free. In-a-nutshell, it's the perfect, fun-filled gift for your pool owner friends who love a splash of organization in their lives! An outstanding gift for your OCPD pool owner friends and special pricing is in effect till December 31st.
Personalized Gift Giving For Pool Lifestyles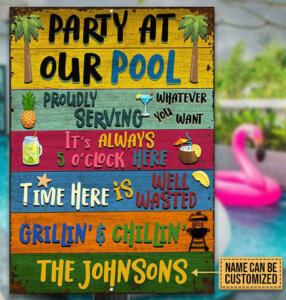 Dive into personalized gift-giving with Wander Prints! Forget the usual pool accessories – our gift giving guide is here to sprinkle some practicality on your pool party. But who said gifts can't be a splash of fun, too? Enter the swimming-pool-custom-metal-sign – an absolute delight from Wander Prints, making affordable gift-giving a total blast!
Check out our gift-giving guide for a range of other wallet-friendly options to make your pool gifts this year unforgettable! 
A Practical Gift – Filters And Parts
 For those familiar with the pool caretakers, pool filters may be practical, but would be an appreciated gift. And there is free shipping on Filter Bags and Chargers. We made it easier for you to find Pool Blaster genuine parts for your pool enthusiasts on your list.  View here and click on your product; all available parts are listed for purchase. 🎁

Water Tech, Lighter, Faster, Smarter. A Pool Cleaner To Fit Your Needs
Water Tech offers a variety of cordless pool and spa cleaners designed for various cleaning needs. Which pool vacuum meets your needs:  Find a Water Tech pool vacuum that best fit your need; products are categorized by "Type of Use Classification."
Water Tech – The Pool Innovation People
The Water Tech Corporation is an American manufacturing company and creator of the first-ever cordless Pool Blaster®. Water Tech's rechargeable cordless, hoseless pool vacuum cleaners are the number-one selling in the industry. Sold internationally in 23-countries and celebrating 20 years of innovation. The company aims to deliver inventive pool cleaning solutions for homeowners' hot tubs, spas, in-ground and above-ground pools. And for professionals' commercial use – public pools, spas, college universities, and sports facilities. Water Tech products are categorized by "best-fit" for customers' needs by type of use. Noted for USA-based Support Customer Service, visit the Customer Service Portal.  Or, for quick answers to your questions, access the handy fast-access FAQ page. Visit www.watertechcorp.com – "Leveraging a Legacy of Leadership & Pool Innovation."
Stay Up To Date With Water Tech's Battery Powered Hoseless Pool Vacuum Cleaners And Subscribe To Our Newsletter