Water Tech Cleaning Solutions for a Smooth Pool Season Opening
Cleaning Solutions for A Clean, Safe, Healthy Swimming Season ….
The beauty of spring–blossoming plants and trees, longer-lasting sunshine, and warmer temperatures are on the horizon. All indications suggest pool season is on its way. And Water Tech offers a range of cordless and hoseless pool cleaners that make cleaning and maintaining your pool easier. Seasonal preparation for Pool and Hot Tubes is easier with the Volt Leaf Vac Recharge and Pool Blaster Max. On the other hand, Water Tech's Precision 2.0,  a commercial-grade pool cleaner, is designed for pool cleaning service professionals. Read on for some tips & tricks for pool season opening.
Thoroughly Cleaning Your Pool Is An Essential Part Of Pool Season Opening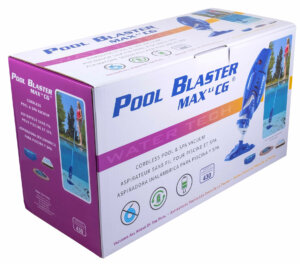 What's the most effective way to open your pool for spring?  See "How to Open Your Pool In Spring," a 14-step checklist from Lesilies Pools. However, we suggest  "brushing and vacuuming" the pool thoroughly before you "reconnect the pool Equipment." Because Water Tech pool cleaners are hoseless, they don't require a connection to the filtration system. Cleaning the pool thoroughly before engaging the filtration system removes significant strain from your filter-pump. Thus, eliminating time-consuming 'backwashing' and pump cleaning since all Water Tech pool cleaners also have onboard filters. Certainly, there are many good reasons to go through a formal pool cleaning process every season. The most persuasive incentive, you'll save time, money, and frustration, especially with Water Tech hoseless pool cleaners. 
"Our hoseless pool vacuums are independent of your primary pool filter. Additionally, they have a reusable, self-contained debris chamber allowing effortless emptying, creating less strain on your pool filtration system. Consequently, you don't have to alter the pool's pump settings." States Water Tech Marketing Director Matthew Chilton.
Whether You're A Pool Owner Or A Pool Cleaning Professional, Water Tech Has A Solution to Open Or Prepare To Close Pools Conveniently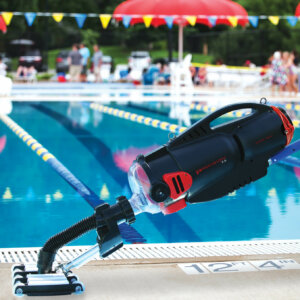 The best time to open your pool will depend on where you live and the climate in your area. That is to say, open your pool when daily high temperatures are consistent. In other words, above 70ºF (21ºC) and when the threat of frost has passed. It usually occurs in springtime, but the exact timing varies based on your location and local weather patterns.
When preparing to open your pool, ensure your Water Tech units are charged and cleaned, so they are ready for use. This will help ensure your pool is properly cleaned and maintained throughout the swimming season. Additionally, it's a good idea to check your pool's water chemistry and make necessary adjustments.
In general, Water Tech pool cleaning solutions offer convenience to keep your pool or hot tube spotless and well-maintained. They are designed for easy use and require minimal maintenance. Hence, they are a great choice for residential and commercial pool cleaning.
Water Tech Recommends These Cleaning Solutions For Pool Opening Season, And Throughout The Year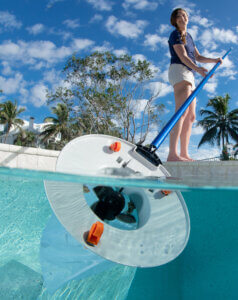 The Volt Leaf Vac Recharge and Pool Blaster Max pool cleaners are designed for residential use. While the Volt Precision 2.0 is a powerful and efficient pool cleaner for large pools and commercial environments. Consequently, it is pool cleaning professionals' vacuum of choice for high-volume pool cleaning needs.
Like all Water Tech pool cleaners, they efficiently remove dirt, debris, and leaves without hoses or cords. In short, no hoses, no cords, no changing settings on the filtration system. Thus, saving time walking back and forth multiple times to hook up hoses to the filter for suction. Moving traditional hose-based pool vacuums too fast will cause air bubbles in the suction cycle. As a result, the pool's filter will kick up dirt and debris from the bottom of the pool. Water Tech's cordless pool and spa cleaners make pool maintenance more convenient and efficient. Most importantly, the cordless design allows for greater agility, maneuverability and eliminates the need for bulky hoses.
Cordless, Hoseless Skimming from Top to Bottom. The Water Tech™ Volt ® Leaf Vac Recharge – The Leading Cordless Pool Cleaner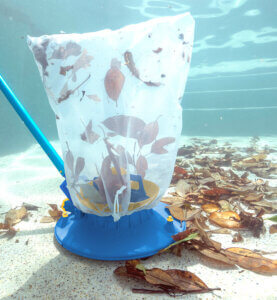 Volt  Leaf Vac Recharge will skim the surface of all floating debris from the winter months and throughout the year. Further, it can clean the pool's floor and has a self-contained rechargeable waterproof Lithium-ion battery. Additionally, a smart water sensor detects when the unit is in or out of water. Accordingly, it automatically turns on and off to save battery power and time. Most importantly, it does not rely on garden hose pressure to get the job done. Therefore, it operates independently from the pool filtration system. Hence, its "onboard" motor lift leaves off the pool floor and deposits the debris into the high-capacity bag. Above all, the Leaf Vac Recharge has a unique Super-Suction Propeller.
The wide-bladed propeller enables the Leaf Vac to pull leaves up and off the pool floor effortlessly. Hence, the slowly rotating propeller continuously keeps debris, such as leaves, seeds, and twigs, agitated and moving while creating suction. Consequently, avoids blockages experienced with "Pressure Side" (garden hose) leaf vacuums. The Volt Leaf Vac Recharge features Water Tech's proprietary Safe-Blade System to assure worry-free operation. 
Thoroughly Clean Your Pool – An Essential Part Of Pool Swimming Season
Surely, any instructions on opening a pool for swimming season will emphasize this step. Clean the water with a pool skimmer to remove floating debris–Volt Leaf Vac Recharge is the ideal solution. Also, brush the wall surfaces thoroughly and use a pool vacuum for the pool floor. Water Tech's best pool cleaners for this heavy-duty spring cleaning are Pool Blaster Max Li and Pool Blaster Max CG.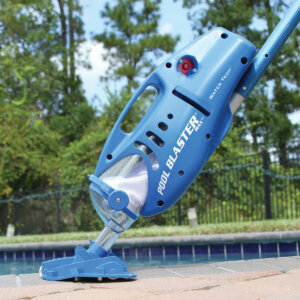 Which Pool Blaster Is For You? Depends On The Size Of Your Pool  
The original  Pool Blaster® Max™ cordless pool vacuum cleans the entire pool in minutes and spot-clean in seconds. Further, it features a high-flow pump that provides extra power for in-depth cleaning. Secondly, its high-capacity filter holds more dirt and debris than entry-level cleaners. Undoubtedly, this video review from Mechanic Hobby sums it up best in an unbiased look at the Pool Blaster Max.
For heavy-duty cleaning of a larger pool, the Pool Blaster Max CG is exceptionally efficient for Professional Grade Cleaning.' Furthermore, it delivers increased coverage and capacity over the original Pool Blaster Max Li. Secondly, it features the same high-flow pump as the original Max® for extra power for heavy-duty cleaning. Accordingly, the 12.75" Scrub Brush Head has increased debris capacity to tackle any size pool in minutes. To sum up, it's ideal for In-Ground pools and Above-Ground pools.
Further, when considering opening, your pool size matters; Pool Blaster Max CG is the right choice for larger in-depth cleaning. Additionally, after a deep-clean, turn on the pump to distribute chemicals evenly to help stop bacteria from growing. Therefore, proper water circulation prevents concentrated chlorine from damaging the pool's surface. Also, it's good for your pump–the heart of your pool. In conclusion, running the motor heats it and evaporates moisture/humidity that harms the motor in the winter months.
"By far the easiest method for cleaning the bottom of our pool.  We wanted a pool vacuum so we no longer have to use the hose plugged into the skimmer.  Our pool has a vinyl liner, so a self-guided vacuum (creepy crawly) is too risky.  We unboxed the Pool Blaster Max CG and tried out our new pool tool that easily picked up dirt and debris. Most importantly, Pool Blaster vacuums are rechargeable, so they don't have cords or hoses.  Above all, our cleaning time is just a fraction of what it used to be." A Satisfied Customer.
Volt Precision 2.0 –The Service Professional's Pool Vacuum of Choice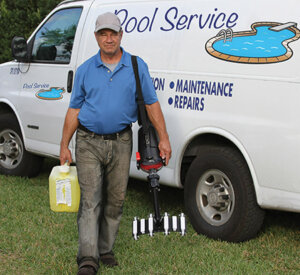 Precision 2.0 is a powerful and efficient cleaner for large pools and commercial environments. Consequently an ideal choice for high-volume pool cleaning needs. Above all, it incorporates the largest debris capture in its class combined with an industry-leading Water Tech P40 commercial-grade motor. Additionally, this vacuum has multi-pool versatility for pool cleaning service professionals. Including the standard vacuum head for vinyl pools and the polyurethane ball-bearing flexible head for gunite pools.
Swimming Pool Learning reviews the Volt Precision 2.0 Cordless Battery Operated Vacuum by Water Tech; view it here. 
Big bulky, corded, humongous, car battery-operated pool cleaners may be good for annual deep cleaning. However, they do not match Water Tech Precision 2.0 benefits for convenient, efficient pool cleaning and maintenance. Therefore you can clean more pools in less time. Consequently, be more productive with your pool routes. Excellent for regular maintenance jobs after deep cleaning–more pools, money, and routes. Subsequently, archive maximum efficiency with the cordless Volt Precision 2.0– the ultimate pool cleaning tool for pool cleaning service professionals.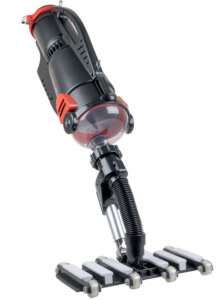 The Hoseless, Cordless Commercial Pool Vacuum – Sets The Standard For Professional Cleaning Convenience
Unlike automatic pressure and suction-side pool cleaners, the Water Tech Precision 2.0 has a self-contained rechargeable
waterproof battery. In addition, it can be attached to any standard telescopic pool pole. Further, use the integrated handle for greater precision maneuvering. Like all Water Tech pool vacuums, it works independently from the pool filtration system; no hoses or cords are needed! Most importantly, it conveniently includes two rechargeable lithium-ion batteries, providing up to an hour of run time each. Charge one battery while the other is charging with the included car-charger.
Water Tech, Lighter, Faster, Smarter. A Pool Cleaner To Fit Your Needs
Water Tech offers a variety of cordless pool and spa cleaners designed for various cleaning needs. Which pool vacuum meets your needs;  Pool Blaster Max Li, or the original  Pool Blaster® Max™ cordless pool vacuum? However, for pool cleaning professionals, select the Water Tech Volt Precision 2.0 Cordless Battery Operated Vacuum. Find a Water Tech pool vacuum that best fit your need; products are categorized by "Type of Use Classification."
Water Tech – The Pool Innovation People
The Water Tech Corporation is an American manufacturing company and creator of the first-ever cordless Pool Blaster®. Water Tech's rechargeable cordless, hoseless pool vacuum cleaners are the number-one selling in the industry. Sold internationally in 23-countries and celebrating 20 years of innovation. The company aims to deliver inventive pool cleaning solutions for homeowners' hot tubs, spas, in-ground and above-ground pools. And for professionals' commercial use – public pools, spas, college universities, and sports facilities. Water Tech products are categorized by "best-fit" for customers' needs by type of use. Noted for USA-based Support Customer Service, visit the Customer Service Portal.  Or, for quick answers to your questions, access the handy fast-access FAQ page. Visit www.watertechcorp.com – "Leveraging a Legacy of Leadership & Pool Innovation."
Stay Up To Date With Water Tech's Battery Powered Hoseless Pool Vacuum Cleaners And Subscribe To Our Newsletter