WATER TECH SPA & HOT TUB CLEANERS UNLOCK A WELLNESS EXPERIENCE
LIFE-CHANGING SPA AND HOT TUB HEALTH BENEFITS
The rising trend of home wellness strategies surges, particularly post-pandemic. Homeowners expand outdoor spaces for recreation and health, including hot tubs & spas and pools. However, let's face it – nobody wants to relax in a dirty tub, right?  Water Tech offers handheld pool cleaners that ensure a clean and enjoyable spa & hot tub year-round. Undoubtedly, worth the time to explore these choices from Water Tech to see which portable pool cleaner meets your needs.  The Pool Blaster® Aqua Broom XL Ultra, the Water Tech® Volt™ FX™-4Li, or the Pool Blaster Catfish Ultra. They efficiently maintain your spa & hot tub or swimming pool, giving you more relaxation and wellness benefits. 
Hence, these maintenance tips and tricks will keep your spa & hot tub running smoothly and immaculately throughout the year. Get insightful information for a smooth-running spa & hot tub from Water Tech –The Pool Invention People. From the people who brought you the First Ever Rechargeable Manual Pool Vacuum, a cordless, hoseless cleaning experience.  Read on…..
HYDROTHERAPY SPA & HOT TUB HEALTH BENEFITS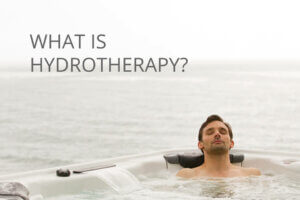 Regular soaking in a spa & hot tub may provide several health benefits, such as muscle relaxation, pain relief, and improved sleep. Additionally, some studies suggest a wider variety of health benefits.  Patients with arthritis may find using a hot tub beneficial mainly for improving pain management. For example, Hydrotherapy* can help them be more physically active. Surely, this medically reviewed article on the seven benefits of soaking in a hot tub gives insightful information.
*Hydrotherapy is a water-based procedure that Physiotherapists widely utilize to help speed the healing process and help patients with pain management techniques. Read Jake Ricks article on Hydrotherapy from Bullfrog Spas. Moreover, the buoyancy relieves pressure from the sore muscles and joints, as the heat and massage help soothe and promote quicker recovery. However, spas, hot tubs, and pools need proper maintenance to ensure health and safety. Indeed, using the pool cleaners we chose from the Water Tech pool vacuum product line creates a hassle-free experience. 
The Water Tech Volt FX-4Li Cordless Handheld Pool Vacuum–Incorporates Durability And Power
Indeed, the handheld Volt FX-4Li portable pool cleaner makes pool cleaning hassle-free with its lightweight maneuverability and cordless freedom. It can be attached to any standard telescopic pole, making it compatible with different cleaning setups. Above all, it's durable and powerful for larger spas & hot tubs. This portable pool cleaner utilizes a rechargeable lithium battery, providing up to 45 minutes of runtime. Similarly, it suits medium-sized above-ground pools and smaller areas like fountains or spas.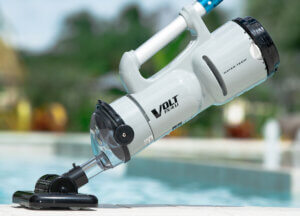 The Volt FX-4Li, a rechargeable manual pool vacuum, is available at a retail store near you. Exclusively Available At Your Local Pool & Spa Supply Store
The Volt FX-4Li incorporates the same durability and power as the Catfish Ultra but  includes more accessories and debris capacity. Above all, it's perfect for quick and easy spa & hot tub cleaning. With their cordless and rechargeable features, you can say goodbye to dealing with cords, hoses, skimmers, and pumps. Traditional vacuum systems can disrupt the pool's chemical balance and temperature. However, the Water Tech rechargeable portable pool vacuums operate independently. Consequently,  there is no need to use your primary filter. Hence, no worries about debris filtering into the pool or the need for backwashing, ensuring a more convenient cleaning process.
Water Tech Makes It Easy To Care For Your Spa & Hot Tub Throughout The Year– Professional Maintenance Tips & Tricks 
Using a spa & hot tub in chilly winter months is a unique opportunity you will want to experience. The contrast of the steamy, hot water and the invigorating cold provides a unique relaxation opportunity. Additionally, it's a great way to enjoy snowy winter scenery or changing seasons. Read HGTV's Tips & Tricks article for winterizing your pool & spa. We are delighted HGTV featured our Pool Blaster Max cordless portable pool cleaner in the winterizing product section of the article.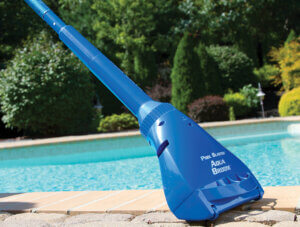 Pool Blaster® Aqua Broom XL Ultra
We recommend cleaning your spa & hot tub every 8-12 weeks when in-use. Also, be mindful about what you take into the tub. Rinsing off in the shower only takes a few seconds before entering your Spa. Therefore, it avoids taking any lotions or bodily oils into the tub.
Likewise, it's essential to maintain a regular cleaning schedule for the water and filters. And while doing this routine maintenance, do a quick clean of the tub. For example, the Aqua Broom XL Ultra portable, cordless pool cleaner easily spot-cleans hard-to-reach areas. Further, it's ideal for spas & hot tubs and features up to 40-minutes of run-time for convenient cleaning maintenance.
In short, the Aqua Broom XL Ultra pool vacuum is convenient and affordable for Quick-Set and soft-sided pools. Further, it has the largest vacuum head in its class, which increases debris capture capacity. Furthermore, the enhanced motor provides more powerful suction to quickly remove debris, leaves, and sand. Most importantly, it comes with an all-purpose filter bag with a sectional pole; no hoses needed!
Spas & Hot Tubs – Easier To Keep Them Running Even In Chilly Months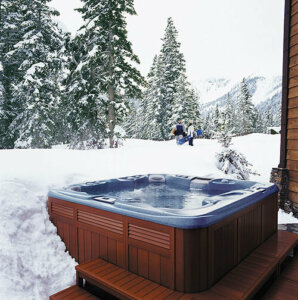 While many choose to close their spas & hot tubs for the winter, keeping them running throughout the year is easier. In other words, running them during chilly months is more effortless than shutting them down for the season. Winter and fall are beautiful seasons to use a Spa with minimal maintenance. The hot water and massage breathe life back to frozen feet and aching joints. Instead of winterizing for the cold, why not make the most of your investment?  
So before the temperatures start to plunge and the snow starts to fall, take the opportunity to drain and thoroughly scrub the interior. Whether running 365 or choosing to shut down for winter (See Cold Weather Winterizing), prepare for the season ahead. Additionally, this is a good time of year for warmer climates to do bi-yearly maintenance. Issues that may arise from failing to do this may cause complications in freezing temperatures or interrupt your outdoor relaxation.
Checking the water level gives an excellent opportunity to clean the tub. The Water Tech Volt® FX-4Li  or Pool Blaster Aqua Broom XL Ultra are excellent choices. Above all, cordless, hoseless, and rechargeable spa & hot tub portable pool cleaners are convenient for daily maintenance and benefit the longevity of your filter. 
Maintaining Spa Water Levels
Most importantly,  keeping the water in your Spa warm and at the proper level saves energy and prevents damage. Consequently, avoiding freezing damage to the Spa as well as the plumbing. To prevent this, set the timer to run the heater every 20-30 minutes so warm water is constantly running through the pipes. Also, check the water temperature frequently. Too little water will also prevent the pump from circulating the warm water, risking ice damage.To sum up, regularly check the water level and keep a hose handy for a quick fix.
Discover Effortless Cleaning with Pool Blaster Catfish® Ultra (Gen2) – An Ultimate Cleaning Partner
Lightweight yet powerful and versatile for use across all pools, spas &  hot tubs. The agile Catfish Ultra portable pool cleaner features an updated body design. The increased debris chamber makes maintenance convenient, holding more dirt than a standard pool cleaner. The  Catfish® Ultra is an ideal portable pool cleaner for regular cleaning and tackling those unreachable spots. Hence, it's a cost-effective way to spot-clean the dirt a pool robot cleaner leaves behind, including pool steps and platforms. Therefore, it becomes your comprehensive cleaning solution.
The Catfish Ultra's wide vacuum head covers more ground with each pass, making overall maintenance a breeze. Furthermore, the removable 10.5" vacuum head adapts to any cleaning challenge, unveiling its nose cone head for those elusive, hard-to-reach corners. Further, the Catfish® Ultra is cord-hose-free and allows cleaning without limitations. It is powered by an advanced rechargeable lithium-ion battery with an uninterrupted 45-minute run time. This handheld pool vacuum unleashes power from a high-performance Water Tech P20 motor, delivering deep cleaning and powerful suction. In addition, the reusable X-Treme Multilayer Filter Bag efficiently traps leaves, twigs, acorns, and fine dirt.
Undoubtedly, the lightweight, push-button design makes it convenient to use by hand or attach to the included 4-Piece Pool Set. Especially useful for smaller pools and spas.  Catfish® Ultra (Gen2) is an extraordinary pool-cleaning companion to the Water Tech Volt-550  battery powder robot. Above all, combined it's a cost-effective cordless, hoseless cleaning solution–a dynamic duo.  
Where To Buy Water Tech Pool Cleaner
The Water Tech Volt-550 and Water Tech Volt FX-4Li are exclusively available at your local pool & spa supply store. And with online distributors and retailers. Designed & Engineered in the USA
Water Tech, Lighter, Faster, Smarter. A Pool Cleaner To Fit Your Needs
Water Tech offers a variety of cordless pool and spa cleaners designed for various cleaning needs. Which pool vacuum meets your needs: Water Tech Volt FX-4Li, or Pool Blaster Aqua Broom XL Ultra  cordless pool vacuum? However, for a pool cleaning that does the work for you, select Pool Blaster Catfish Ultra (Gen@) Find a Water Tech pool vacuum that best fit your need; products are categorized by "Type of Use Classification."
Water Tech – The Pool Innovation People
The Water Tech Corporation is an American manufacturing company and creator of the first-ever cordless Pool Blaster®. Water Tech's rechargeable cordless, hoseless pool vacuum cleaners are the number-one selling in the industry. Sold internationally in 23-countries and celebrating 20 years of innovation. The company aims to deliver inventive pool cleaning solutions for homeowners' hot tubs, spas, in-ground and above-ground pools. And for professionals' commercial use – public pools, spas, college universities, and sports facilities. Water Tech products are categorized by "best-fit" for customers' needs by type of use. Noted for USA-based Support Customer Service, visit the Customer Service Portal.  Or, for quick answers to your questions, access the handy fast-access FAQ page. Visit www.watertechcorp.com – "Leveraging a Legacy of Leadership & Pool Innovation."
Stay Up To Date With Water Tech's Battery Powered Hoseless Pool Vacuum Cleaners And Subscribe To Our Newsletter