Spring Maintenance Assures Your Pool is Ready
Opening Your Pool Earlier –Tips, Tricks & Benefits
The arrival of spring is a refreshing change after a long winter. For many, the shift in seasons brings back favorite things: leaves on trees, blossoming flowers, longer days, and the pool! We at Water Tech believe there are many benefits to springing forward and enjoying your pool or spa earlier. For example, many pool owners wait for Memorial Day to open their pool, missing several months of enjoyment. And those who live in warmer temperature zones should do a complete spring maintenance check. Make sure your pool is ready for those hot & humid summer days.
Water Tech Spa & Pool experts would like to share our tips, tricks & benefits of early spring maintenance. Water Tech's battery-powered, hoseless pool vacuums assist you in enjoying the positives of being prepared for the summer months ahead. 
More Time To Enjoy Your Pool – Spring Maintenance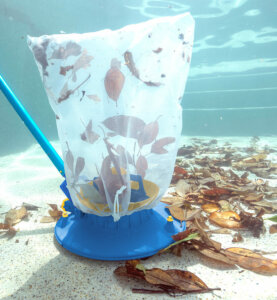 Maintenance throughout the winter is always the intelligent thing to do. Consequently, a routine check of water level, filter, and equipment can address issues before they get complicated.
Scheduling spring maintenance early in the season assures the pool equipment is running correctly. Issues with debris in the pool, water level, tears in the liner can get fixed before pool season is in full swing. Identifying spring maintenance issues earlier allows you to make the most of the season.
Spend less time and energy cleaning and more time enjoying pool fun with Water Tech Pool Blaster Leaf Vac. Quickly, effortlessly, safely clean out large amounts of leaves and debris from all hot tubs & pool types. This battery-powered, hoseless pool vacuum devours debris, whether along the bottom or floating on top of the water. Above all, the Leaf Vac includes everything needed to get the job done. The high-capacity debris bag and unique super suction safe-blade technology lifts leaves and prevents blockage.
Prevent Algae Growth
The sooner you open the pool, the more likely you will find a cleaner pool when it's most needed. Even if the pool was winterized correctly and maintained throughout the off-season, a spring cleaning is recommended. Including if opened throughout the year, an early 'get ready' before hot summer months keep the pool hassle-free.
As the winter sun beats down on the cover in colder temperature zones' algae growth can occur. It's an ideal algae breeding ground during the warming spring temperatures. Most importantly, early seasonal maintenance can reduce that algae growth. In addition, early spring maintenance can save money on cleaning chemicals and take the strain off your pool pump.
"An industry leader in the pool cleaning industry for two decades Water Tech meets residential & commercial market demands. Our brand is the number one selling battery-powered, cordless, hoseless Spa Pool Vacuums on the market. Our mission is for you to spend more time enjoying your spa or pool and less time cleaning." States Water Tech Director of Marketing Matthew Chilton
Enjoying An Extended Pool Season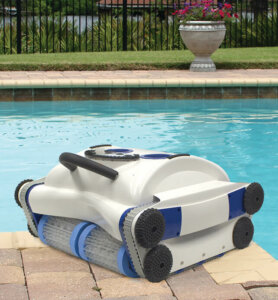 Those in warm temperature zones also benefit from an early general tune-up. In short, a well-running pool on hot, humid summer days guarantees it's ready when you are. Further, pool owners in colder temperature zones usually operate their pools from May through September, limiting enjoyment to five months. Consequently, a March or April opening extends the season, maximizing your fun and use of your spa or pool. Often costly to build and maintain, you get the most out of your investment by extending the season.
A Robotic Pool Cleaner – Truly Revolutionary
In addition, extend your enjoyment by outsourcing cleaning responsibilities to Water Tech's Pool Blaster CX-1 Robot. Above all, the cordless, rechargeable, hoseless pool vacuum cleaner will do the work for you. Set it by the pool edge, point the front towards the pool, and turn the power-on. This is to say, the CX-1 will enter the pool on its own power and begin its cleaning cycle. Certainly, this is a really cool feature! When turning on the robotic cleaner, you can select just "Floor Only" or "Floor & Walls." The onboard controller is easy to set up and use, and the cleaner has a 6-day setting. Meanwhile, just sit back and relax, enjoy your pool experience, and let your robot do the work. Swimming Pool Learning review gives an in-depth overview of our Pool Blaster CX-1 Robot.
Pool Balster CX-1 Robot features powerful scrubbing brushes on the front and back. It has substantial debris openings, so it will clean just about any pool and leave it spotless all week. Moreover, the large reusable bag easily captures small and large debris.
The Manufacturer of The Original Pool Blaster
In short, opening your pool earlier in the spring after a long winter will positively affect your mood. Furthermore, to know that the warmer weather is on its way is sure to lift your spirits. Whatever temp zone you live in, having a hassle-free running pool extends your pool enjoyment. 
Water Tech embraces jump-starting the pool season with an early opening and spring maintenance in March or April. Consequently, opening your pool and earlier yearly maintenance allows for a more extended pool season. Water Tech's cordless, hoseless pool vacuum cleaners are here to help create an easy and convenient pool experience.
Sign up for our latest 'Tips & Tricks" from "The Pool Invention People" for a better pool experience.