Water Tech Creates a Better Way to Clean Swimming Pools
Pool Blaster Takes The Hassle Out Of Above Ground & In-Ground Pool Cleaning
Water Tech Pool Blaster, cordless and hoseless pool cleaners, offer above-ground, quick-set, Intex pool owners convenient options. More versatile and efficient for cleaning above-ground and in-ground swimming pools than traditional hose-based pool vacuums. The original Pool Blaster Max Li, Catfish Ultra, and Pool Blaster Centennial are powerful options for cleaning these types of pools. All Water Tech pool vacuums offer a hassle-free pool cleaning experience vs. traditional hosed pool vacuums. Do you want to know why?
A Better Way To Clean Your Pool–Hosed Vs. Cordless Pool Cleaners
Most hosed cleaners are unsuitable for quick-set or Intex pools, as they require extra equipment and are challenging to maneuver.  Secondly, most filtration systems must be stronger to support a hosed pool cleaner. Most above-ground pools will require a booster/adapter to use tethered-hosed pool vacuums. Thus, extra equipment is needed, with bulky, dirty hoses.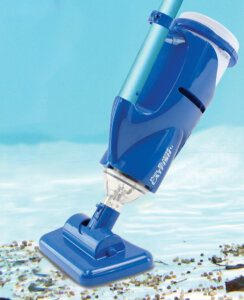 Moving them too fast will cause air bubbles in the suction cycle of the pool's filter kicking up dirt and debris on the bottom of the pool.
The Pool Blaster Catfish Li cleans spas, kiddie pools, Intex above-ground, in-ground, or inflatable pools. A perfect pool vacuum for spot cleaning before, after, or during entertaining. Keep it conveniently poolside to use by hand or attach to any standard telescopic pole. The Pool Blaster Catfish Li is lightweight, user-friendly, and very affordable. 
Above all, the powerful flow pump and all-purpose reusable filter bag remove all types of debris. Moreover, the large vacuum head covers sizable areas, or it can be a powerful spot pool cleaner. In addition, the removable vacuum head allows smooth maneuvering into corners and crevices. Consequently, the Pool Blaster Catfish cleans your pool fast and efficiently, saving you time and energy. Here's an unbiased review from the independent Review Tube
Hosed Cleaners Are Unsuitable For Quick-Set Or Intex Pools
Water Tech's cleaning solutions for Quick-Set, above-ground, or kiddy pools offer the most versatility to handle this Industry category. Especially since robot cleaners or other autonomous pool cleaners are unsuitable for these pools. Smaller pools often need quick cleaning, especially with younger folk jumping in and out with dirty feet. 
The Pool Blaster Centennial, and Pool BlasterCatfish, are convenient and efficient solutions. Simply turn on Water Tech's Pool Blaster units and begin cleaning; no hoses or changing settings on the filtration system. Consequently, saving time walking back and forth multiple times to hook up hoses to the filter for suction, etc. Ideal for smaller pools with weak filtration systems/motors or can't support a traditional vacuuming method. No motor booster is needed with Pool Blaster's innovative/cutting-edge technology. Water Tech's Cool state-of-the-art tech has led innovation in the Pool & Spa Industry for the last 20 years.  
Do you like to shop at brick & mortar stores? The acclaimed Water Tech's Volt Series is available at your local Pool retail supplier.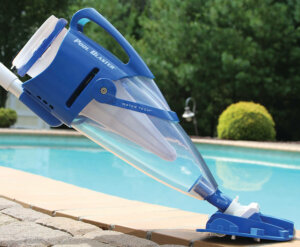 Suitable For Above Ground & Intex Pools Use the Catfish For Light Cleaning And Maintenance, While The Centennial is A Mid-Sized Option
The Centennial canister-style cordless handheld or attached to any standard telescopic pole has a large capacity, easy-to-empty transparent debris chamber. Accordingly, it's perfect for quick and easy cleaning your hot tub, spa, or above-ground or in-ground swimming pool. Further, there is no need to attach cords and hoses. You can spot-clean in seconds or clean the entire pool. In addition, the 10.5″ vacuum head for general cleaning is removable, exposing an angled head for hard-to-get areas.
Because it's lightweight, you can use it by hand for last-minute clean-ups, perfect for Intex swimming pools.  Above all, it can capture mixed-size debris–acorns, twigs, dirt, and sand with push-button ease. The Pool Blaster® Centennial™ Li has an Advanced Cone Filtration System with XL Debris Chamber. Ideal for In-ground and above-ground pools. You can find the sister product Volt Centennial at select local retailers.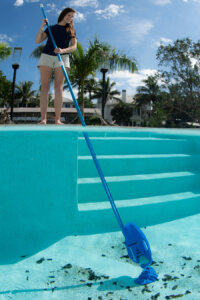 The First Ever In The Industry – Hoseless Cordless Pool Blaster
The Water Tech Corporation, the manufacturer of the industry's first-ever cordless, hoseless Pool Blaster® Max™, meets expectations in this category.  This option is the largest and most powerful pool cleaner in this category, ideal for larger pools and debris. Moreover, the first-ever cordless, hoseless pool vacuum enhances a pool owner's outdoor lifestyle. Pool Blaster® Max Li., offers increased vacuum suction with an innovative P30 Motor design for quick and efficient debris capture. Hence, the high-flow pump provides extra power for deep cleaning while being convenient, flexible, and easy to maneuver.
Above all, the strong suction is ideal for hard-to-reach areas giving the flexibility to capture diverse sizes of debris. The 10.5" vacuum head is removable to expose a bullet-crevice nozzle for hard-to-get places. Ideal for your in-ground, above-ground, or soft-sided pools.
Secondly, it cleans entire pools in minutes, spot cleans in seconds, giving you more time to enjoy your outdoor living.
Water Tech Pool Blaster's Eco-Friendly – Cost-Efficient Performance 
Water Tech's cordless pool and spa cleaners make pool maintenance more convenient and efficient. Consequently, the cordless design allows for greater agility and maneuverability and eliminates the need for bulky hoses.
"Our hoseless pool vacuums are independent of your primary pool filter. Additionally, they have a reusable, self-contained debris chamber allowing effortless emptying, creating less strain on your pool filtration system. Consequently, you don't have to alter the pool's pump settings." States Water Tech Marketing Director Matthew Chilton.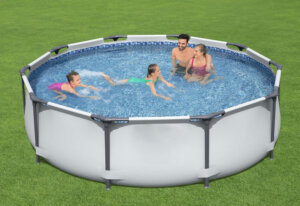 Further, Water Tech's pool cleaners are eco-friendly and cost-efficient as they are rechargeable. And when stored properly, they can last for many seasons, not requiring any extra energy to operate. Additionally, cutting-edge technology used in Pool Blaster cleaners creates a less labor-intensive pool cleaning experience. Thus giving pool & spa owners more time to enjoy friends and family. Water Tech's goal is to make pool maintenance as easy and stress-free as possible for all above-ground and in-ground pools.
Pool Blaster–Lighter, Faster, Smarter. A Pool Cleaner To Fit Your Needs 
Water Tech offers a variety of cordless pool and spa cleaners designed for various cleaning needs. Which pool vacuum meets your needs;  Pool Blaster Max Li, Pool Blaster Centennial, or Pool Blaster Catfish? To find a pool vacuum that is the best fit for you, Water Tech has categorized products by "Type of Use Classification."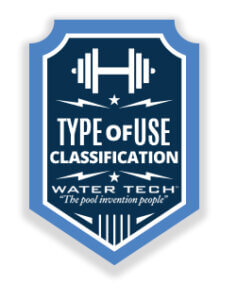 Water Tech delivers professional technology for consumers with the right product to "best-fit" customers' needs by type of use."  Consequently, pool owners & service professionals find Water Tech's time-saving spa & pool cleaners bring a new level of convenience with energy-efficiency.  The company continues to bring pool innovation with new and better product solutions.
In summary, cordless pool cleaners have many benefits over traditional corded cleaners that require a hose and filter hook-up. Cordless cleaners are excellent for quick-set and Intex pools that cannot support traditional hosed vacuuming methods. Cordless cleaners are more convenient and efficient, as they don't need extra equipment or booster motors. They are also more agile and easier to maneuver and do not produce any air bubbles in the suction cycle. Additionally, cordless cleaners are eco-friendly and cost-efficient as they are rechargeable. If stored properly, they can last for many seasons.
Water Tech – The Pool Innovation People
The Water Tech Corporation is an American manufacturing company and creator of the first-ever cordless Pool Blaster®. Water Tech's rechargeable cordless, hoseless pool vacuum cleaners are the number-one selling in the industry. Sold internationally in 23-countries and celebrating 20 years of innovation. The company's mission is to deliver inventive pool cleaning solutions for homeowners' hot tubs, spas, in-ground and above-ground pools. And for professionals' commercial use – public pools, spas, college universities, and sports facilities. Water Tech products are categorized by "best-fit" for customers' needs by type of use. Noted for USA-based Support Customer Service, visit the Customer Service Portal.  Or, for quick answers to your questions, access the handy fast-access FAQ page. Visit www.watertechcorp.com – "Leveraging a Legacy of Leadership & Pool Innovation."
Stay Up To Date With Water Tech's Battery Powered Hoseless Pool Vacuum Cleaners And Subscribe To Our Newsletter