Water Tech Pool & Spa Vacuums Celebrates Its 20th Anniversary
With Continued Innovation And Commitment To The Spa & Pool Industry
Water Tech Pool & Spa Vacuum Innovation
The Water Tech Corporation, manufacturer of the original Pool Blaster, "Water Tech VOLT," & "Precision 2.0," battery-powered spa & pool vacuums, celebrates 20 years. Guy Erlich launched Water Tech from his Manhattan studio apartment above a local Starbucks, which doubled as his conference room. Guy used his bathtub as the product test lab during proof-of-concept and product testing.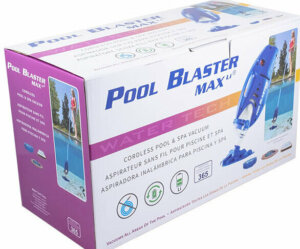 After several years of R&D, Erlich launched the first Pool Buster Max with Jack Lalanne as the company spokesperson. Today the company's global footprint has expanded to include selling products in 23-international countries. Water Tech has developed the most diversified line-up of spa and pool vacuum cleaners in the industry. The company provides cleaning tools for every spa and pool budget. In addition, Water Tech currently distributes its premier Spa & Pool Vacuum Cleaners internationally.
"We were granted our first patent in 2004 for the Pool Blaster cleaner. A key factor for Water Tech's success has focused on unique, innovative & patented product design. All our product designs are thoroughly tested and validated before bringing the products to market. Therefore allowing us to stand behind our products with a superior warranty and repair support." States Water Tech founder Guy Erlich.
Certainly, focusing on using patented technology for its spa & pool vacuums has been central to Water Tech's business plan. With numerous U.S. patents for spa and pool cleaners, with more to come. Water Tech has used its intellectual property and unique product designs to systematically ensure its success in the marketplace. Since 2005 Water Tech has received "Pool & Spa News & Readers' Choice Award" for "Best New Product" approximately seven times. Likewise, in 2021, Pool & Spa News named Pool Blaster Pro-1500 "Best New Product."
Humble Beginnings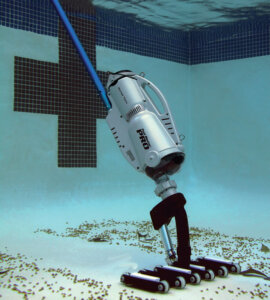 Early in Erlich's design process, he saw the need for more convenient, functional spa & pool vacuums to replace unwieldy models. Above all, his unwavering vision inspires him to create high-quality, useful, reliable products at an excellent value. Guy's mission is to develop innovative products that solve consumer needs. In addition, he pursues thoughtful and unprecedented ways to create a healthy, clean, and safe pool & spar environment. 
The company celebrates its 20th anniversary year with the number-one selling battery-powered spa and pool vacuum brand on the market. His passion for innovation has put Water Tech at the forefront of the industry with products that meet end-user needs. additionally, Guy is constantly looking for new and inventive ways to improve and solve pool owners' and professionals' everyday issues. The company's products are designed and serviced in the USA from with its headquarters in New Jersey. Meanwhile, imminent expansion plans are on the horizon. 
Erlich continues, "As an industry leader for two decades, Water Tech has streamlined the task of pool cleaning with our line of cordless, rechargeable, hoseless Spa & Pool Vacuums. So you can spend more time enjoying your spa or pool and less time cleaning.".
"Aha Moment"
Guy believes Water Tech products are the equivalent of a hammer in a toolkit – essential for all spa & pool owners and cleaning professionals. Moreover, he believes in creating reliable products that solve consumers' annoyance with conventional spa & pool vacuum cleaners. Further, the "aha moment" customers experience when they see and use Water Tech's innovative products inspires his designs. Water Tech's product benefits streamline the pool cleaning processes providing consumers a safer, more enjoyable pool experience.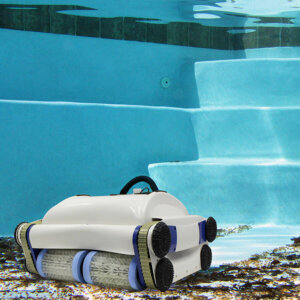 Robotics The Future
Erlich has brought creativity and innovation to the Spa & Pool Industry with products like the Pool Blaster Catfish, Water Tech Volt series, Precision 2.0. And now, a line of robotic pool vacuum cleaners, completely battery-powered, free of wires and hoses were developed.  Water Tech's robotic pool vacuums are the future of pool cleaning convenience. They have a four-hour run per-charge and a programmable cleaning schedule. They climb walls and steps for the ultimate cleaning experience. 
The most advanced cordless residential pool robots in the industry, the pool blaster® cx-1  & the water tech™ volt® 550 li, are battery-powered. Above all, these powerhouse machines deliver on next-generation convenience, loaded with innovative features and industrial-grade parts for durability. Heads above the competition, Water Tech cordless, battery-powered residential pool vacuum robots have extended run-time features. In addition, the company takes battery life seriously with updated technology boosting a 4-hour run time and 6-day cleaning cycle. These robots have a rechargeable lithium battery with an extended limited warranty and more.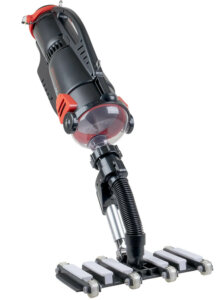 Leveraging A Legacy of Leadership – The Right Spa & Pool Vacuum For Every Market
For nearly a decade, Volt products have been a staple with trusted spa and pool dealers. The Volt product line comes with additional features, accessories, and an extended warranty. Further, the Volt brand is exclusively available in traditional neighborhood pool stores. Most importantly, the company initially became best known for its Pool Blaster line of battery-powered pool cleaners. Subsequently, developed a commercial-grade, hand-held battery-powered cleaner for service professionals.
The Precision product line commercial offering features a high-capacity debris chamber and the most powerful water Tech engine to date. In addition, the  Precision product line includes the Pool Blaster 900, 1500, and Precision 2.0.  The award-winning Pool Blaster PRO 1500 is lightweight and entirely independent of the primary pool filter. This battery-powered pool vacuum cleaner has two interchangeable batteries providing two-hours of vacuuming time.
In addition, the company has streamlined the task of pool cleaning that "best-fit" customers' needs by type of use. Categorized for light, medium, heavy, ultra-heavy, and commercial duty cleaning modes.  
In summary, Water Tech celebrates its 20th year with the number-one battered powered spa & pool vacuum brand in the industry. Humbled and committed to creating products for commercial facilities – public pools & spas, college-universities, and sports aquatic facilities.  In Addition to further designing innovative products for homeowners' hot tubs and spas, in-ground and above-ground pools.
Stay Up To Date With Water Tech's Battery Powered Spa & Pool Vacuum Cleaners