20 Years of Water Tech Pool Innovation
Cut the Cord, Connect With Your Family –
Less Time  Cleaning, More Time Enjoying With Water Tech Pool Innovation
The Water Tech Corporation, manufacturer of the first-ever rechargeable, cordless, hoseless Pool Blaster, celebrates 20 years of innovation. The product line's advantages have created a loyal customer base for its number-one selling spa and pool vacuums in 23-countries. Consequently, customers have come to trust its high-quality, unique, and innovative products. Above all, Water Tech has developed the most diversified line-up of spa and pool vacuum cleaners in the industry the industry.  
Lighter, Faster, Smarter, and Eco Friendly 
Water Tech delivers professional technology for consumers with the right product to "best-fit" customers' needs by type of use. Consequently, pool owners & service professionals find Water Tech's time-saving spa & pool cleaners bring a new level of convenience with energy-efficiency.  The company continues its commitment to bringing pool innovation with new and better product solutions. Further, pool owners have a choice of the most diversified battery-powered, hoseless spa and pool vacuum selection on the market. In short, the company's mission "is to solve and meet various customer needs."
Read more about how the benefits of Water Tech pool innovation save you time maintaining your pool environment.
Clean Your Pool in a Fraction of the Time–Cordless, Hoseless Pool Vacuums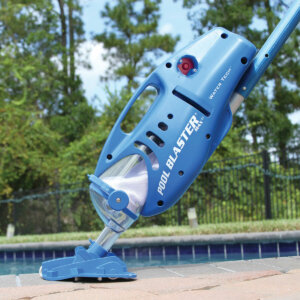 Other traditional pool vacuum systems require attaching electric cords, hoses, skimmers, and pumps, creating numerous pool shed trips. Also, they sometimes filter debris into your pool filter, requiring backwashing of the filtration system. And traditional hose systems may also pump untreated water into the pool, disrupting the chemical balance and temperature of the water.
"

Our pool vacuums are hoseless and are independent of your primary pool filter. Additionally, they have a reusable, self-contained debris chamber allowing effortless emptying, creating less strain on your pool filtration system. Consequently, you don't have to alter the pool's pump settings."

States Water

Tech Marketing Director Matthew Chilton.
Since Water Tech products are hoseless, they are independent of the primary pool filter. So, there is no need to backwash your system or re-test the pool's chemical balance. Water Tech effectively eliminates steps to clean your pool with its latest pool innovative products.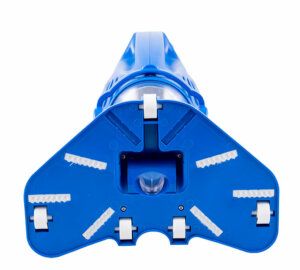 Pool Innovation– First Ever
With the first-ever cordless, hoseless spa and pool vacuum, pool owners enjoy an enhanced outdoor lifestyle. The Pool Blaster® Max™ Li. offers increased vacuum suction with an innovative P30 Motor design engineered for quick and efficient debris capture. Hence, the high flow pump provides extra power for deep cleaning while convenient, flexible, and easy to maneuver.
Above all, the strong suction is ideal for hard-to-reach areas giving the flexibility to capture diverse sizes of debris. The 10.5" vacuum head is removable to expose a built-crevice nozzle for hard-to-get places. Ideal for your In-Ground, Above-Ground, or soft-sided pools. Cleans the entire pool in minutes or spot cleans in seconds, giving you more time to enjoy your outdoor living.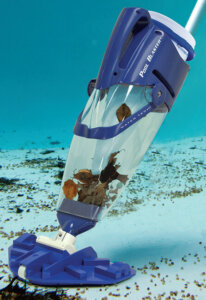 Pool Blaster Centennial Li
The Centennial canister-style cordless handheld cleaner has a large transparent large debris chamber capacity. It's perfect for quick and easy cleaning for your hot tub, SPA, or swimming pool.  With no need to attach cords and hoses, you can spot-clean in seconds or clean the entire pool. And the 10.5" vacuum head for general cleaning is removable, exposing an angled head for hard to get areas.
Indeed, the dual-cam lever connection on the debris chamber makes it easy to empty between cleanings. Because it's lightweight, you can use it by hand or attach it to any standard telescopic pool pole. Above all, it can capture mixed-size debris–acorns, twigs, leaves, dirt, and sand with push-button ease. No hoses or cords needed–run-up to 45-min.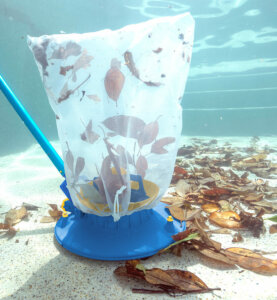 Pool Blaster Leaf Vac No Hose No Filter No Hassle
The Leaf Vac is Ideal for opening and closing your pool but instrumental in wooded areas for everyday use and maintenance.  Owners' have told us their issues with leaves – and Water Tech has developed a super-efficient system.  No forced air pumping, cords, or garden hose water hook-up is required. Consequently, it works independently from the pool filtration system. As a result, it eliminates a half-dozen steps for cleaning efficiency. Pool Owners will find that the Pool Blaster® Leaf Vac is quick and convenient for skimming top-side and bottom-dwelling leaves. Created to capture vast amounts of leaves, it incorporates a high-capacity mesh filter bag for maintenance efficiency.  

It is lightweight and conveniently attaches to any standard telescopic pool pole. With the effortless push-button operation, the Leaf Vac can run up to 3 hours on a set of batteries. Unquestionably a necessity for every pool owner's checklist of pool cleaning maintenance equipment. 
Leveraging a Legacy of Leadership & Pool Innovation–Robotics The Future
Water Tech's completely cordless Pool Blaster CX-1 Robot delivers pool innovation and convenience with cutting-edge technology.  With an onboard rechargeable battery and control panel that is easy to set-up for a 7-day cleaning or just a one-time cycle. CX-1 allows you more time for backyard entertaining your family and friends and less time cleaning.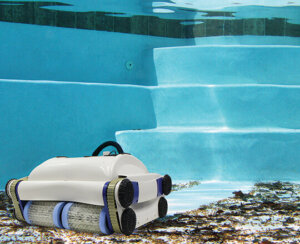 Water Tech Marketing Director Chilton continues,

"Innovative, reliable, and endlessly convenient, our robotic pool cleaners feature proprietary technology. The CX-1 Robot autonomously climbs stairs and walls and effectively cleans pools of any size or shape. Keeping your pool free of debris while preserving the aesthetics of your backyard."
Further, the cordless, hoseless, rechargeable Pool Blaster CX-1 Robot features two high-grade belts with powerful front and back scrubbing brushes. Also, there are no scuff marks due to the soft rubber wheels. A tight weave, large filter bag extracts extremely fine debris without removing chlorine, filtering 7200 gallons of water per hour. And the large cleaning openings capture all pool debris, making it spotless all week. Proprietary technology allows the CX-1 to climb stairs and walls and effectively clean pools of any size or shape. Additionally, you can conveniently select "Floor Only" or "Floor & Walls," which will climb the walls up to the waterline. 
Traditional robotic pool cleaners have unsightly hoses and cables tethered to a transformer, creating poolside hazards. Water Tech's Pool Blaster CX-1 Robot enters your pool on its own power. Just set it by the pool edge, and turn on the power. It will start up and drive into the pool and begin its cleaning cycle. This is a really cool feature! Above all, these powerhouse machines deliver on next-generation convenience, loaded with innovative features and industrial-grade parts for durability. Heads above the competition, this robot is an investment that frees your time to enjoy your pool with less maintenance. Just lay back and let the CX-1 Robot do the work for you. See the Swimming Pool Learning review's for an in-depth overview of our Pool Blaster CX-1 Robot.
Innovative, Reliable, And Endlessly Convenient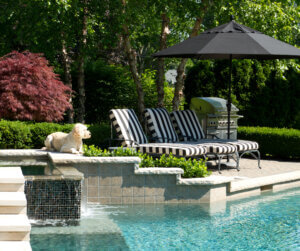 It's been 20 years of innovation, and Robotics has been top of mind since the company's beginnings. Perfecting this cutting-edge technology to Water Tech's high standards remains a primary goal of research and development.
The company's thoughtful development process means you–the consumer gets a better-perfected and better-built product. And the CX-1 is a more convenient robot than others on the market today, resulting in a better pool cleaning experience. Like all Water Tech's products, they come with excellent US-based customer service.
Water Tech – The Pool Innovation People
 Water Tech celebrates 20-years of pool innovative products with the number-one cordless, hoseless spa & pool vacuum brand in the industry. The company is committed to creating innovative products for homeowners' hot tubs, spas, in-ground and above-ground pools. In Addition, the company manufacturers professional products for commercial facilities – public pools, spas, college universities, and sports facilities.   
Find our products categorized by "best-fit" customers' needs by type of use–light, medium, heavy, ultra-heavy, or commercial duty cleaning. Read More about Water Tech's Pool Innovation and cutting-edge pool cleaners – Visit www.watertechcorp.com.
Stay Up To Date With Water Tech's Battery Powered Hoseless Pool Vacuum Cleaners And Subscribe To Our Newsletter: