A Clean Pool Is a Safe Pool
Entertaining Poolside Has Just Become More Enjoyable, Convenient, And Safe
Keeping your pool safe & open when you need it most is a top priority during the prime summer season. Water Tech cares about the safety of your family, friends, and pets while entertaining poolside in your backyard. Poolside fun becomes easier, more enjoyable, and convenient whether preparing for a party or a quick clean-up with Water Tech. All without cumbersome hoses and cords, eliminating debris and harmful-causing bacteria. Read on for some tips for a clean pool– safe pool.
WATER TECH HELPS TO KEEP YOUR POOL SAFE & CLEAN THROUGHOUT THE SUMMER AND YEAR
Surely, a clean pool on-demand, especially for unexpected guests, is easily handled with the Volt 550 Li cordless robot. Also, skimming your pool from top to bottom becomes easier with the VOLT Leaf Vac Recharge for your next party. Further, Water Tech has a solution to cover large areas with the Pool Blaster Centennial. And the removable head conveniently makes maneuvering smoothly into corners and crevices, it's also a  powerful spot cleaner. Certainly, keeping the Pool Blaster Catfish Ultra at poolside helps with quick clean-ups for your hot tub, spa, or pool. Most importantly, if you want a safe and clean pool, a regular maintenance schedule is essential.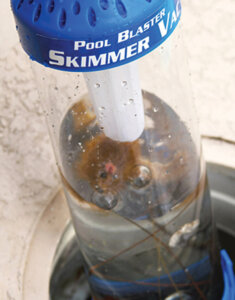 Home Pool & Hot Tub Safety
When it comes to pool care, think of the three C's–circulation, cleaning, and chemistry. It's essential to clean the pump and filter for good circulation regularly. Water Tech pool cleaners certainly have a pool vacuum to help remove the strain off your filtration system. Hence, Pool Blaster's Skimmer Vac is a hydraulic, easy-to-use manual device that effortlessly removes debris from any pool skimmer basket.
 Most importantly, hands are safe from the 'untouchables,' from leaves, twigs, insects, and rodents, instantly removed. Consequently no need to touch the debris and keep the basket clean. The Skimmer Vac removes debris without removing the pool skimmer basket. In short, you are not exposed to any health and environmental dangers that make there way into a healthy pool.
Use the versatile and convenient Water Tech pool cleaners for quick pool clean-ups to remove harmful debris safely. Synonymous with poolside fun Water Tech help customers stop wasting so much time cleaning and spend more time with their loved ones. Keeping your pool free and safe of debris without dangerous cords and hoses help make maintenance hassle-free.
Poolside Safety First
Other common sense poolside safety rules and behavior are essential, especially with children, pets, and adults too. To mention a few, stay hydrated with snacks and drinks, prevent sun damage to the skin–use sunscreen, hats, umbrellas, etc. 
Further, a four-sided isolation fencing with a self-closing gate ensures safety. Secondary barriers like doors & window alarms with direct access to the pool and spar areas help protect your family. In addition, it's essential members of your family learn basic swimming techniques. Also, keeping first-aid handy for water emergency procedures is recommended by American Red Cross. See the American Red Cross Pool Safety Tips for more water safety resources!
Innovative, Reliable, And Endlessly Convenient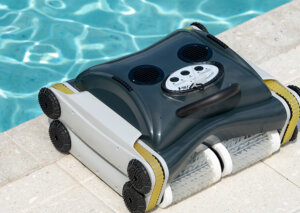 Maintaining a safe, clean pool is easy with the help of Water Tech pool cleaners. Pool vacuums like Volt 550 Li Cordless Pool Robot can continuously clean with its six-day cleaning cycle. It takes vacuuming off your list of chores. Let Volt 550 do the work for you. Just sit back and let it scrub the entire pool right up to the waterline. Hence prevents algae, harmful-causing bacteria, staining, and scaling.
Keep your pool open when you need it the most, especially when unexpected company comes a 'visiting.' Conveniently the onboard controller is easy to set-up for the 6-day or a one-time cleaning cycle. The Volt 550 Li Pool Robot allows you more time for backyard entertainment with family/friends and less time cleaning. Available at select pool retail stores.
"Our pool vacuums are hoseless and are independent of your primary pool filter. Consequently, it avoids using hazardous cords and hoses kids can trip over. Moreover, the reusable, self-contained debris chamber allows effortless emptying and creates less strain on your pool filtration system.  Consequently, you don't have to alter the pool's pump settings."

States Water Tech Marketing Director Matthew Chilton.
Leaves Be-Gone – No Hose, No Filter, No Hassle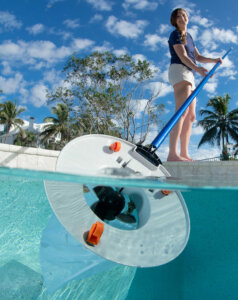 The water tech lineup of pool vacuums will help with maintenance, cleaning chores, and safety for poolside entertainment. Pool owners will find the cordless, hoseless VOLT Leaf Vac Recharge suitable for skimming top-side and bottom-dwelling leaves.
 The VOLT Leaf Vac Recharge is entirely self-contained and now rechargeable. It does not rely on garden hose pressure to get the job done. Consequently, it works independently from the pool filtration system. Hence, its "onboard" motor, transmission, and safety clutch lift leaves off the pool floor and deposit the debris into the high-capacity bag. Most importantly, the Pool Blaster Leaf Vac has a unique Super-Suction Propeller. 
The wide-bladed propeller enables the Leaf Vac to pull leaves up and off the pool floor effortlessly. Therefore while creating suction, the slowly rotating propeller continuously keeps debris, such as leaves, seeds, and twigs, agitated and moving. Consequently avoids blockages experienced with "Pressure Side" (garden hose) leaf vacuums. The Volt Leaf Vac features Water Tech's proprietary Safe-Blade System to assure worry-free operation.
The Poolside Companion – Every Clean Pool Needs One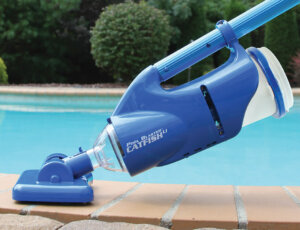 The Pool Blaster Catfish Ultra cleans all pools, spas, kiddie pools, above-ground/in-ground, or inflatable pools. A perfect pool vacuum for spot cleaning before, after, or during entertaining. Ideal for keeping your pool safe and crystal clear at all times. Keep it conveniently at poolside to use by hand or attach to any standard telescopic pole. The Pool Blaster Catfish Ultra is lightweight, user-friendly, and very affordable. 
Above all, the powerful flow pump and all-purpose reusable filter bag with debris catcher remove debris of all types. Further, the large vacuum head covers sizable areas, or it can be a powerful spot pool cleaner. Hence the removable vacuum head allows smooth maneuvering into corners and crevices. Consequently, the Catfish Ultra cleans parts of your pool that need it quickly and efficiently, saving you time and energy. Here's a review from the independent Review Tube and an appraisal from E-Z Test Pool Supplies
Entertainment's Poolside Housekeeper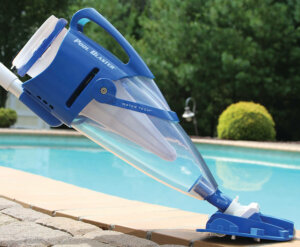 The Centennial canister-style cordless handheld or attached to any standard telescopic pole has a large transparent debris chamber capacity. Accordingly, it's perfect for quick and easy cleaning of your hot tub, spa, or swimming pool. Further, there is no need to attach cords and hoses. You can spot-clean in seconds or clean the entire pool. It certainly guarantees a crystal clear pool before guests arrive for a safe and fun poolside experience. In addition, the 10.5″ vacuum head for general cleaning is removable, exposing an angled head for hard-to-get areas.
Indeed, the dual-cam lever connection on the debris chamber makes it easy to empty between cleanings. Because it's lightweight, you can use it by hand appropriately for last-minute clean-ups. Above all, it can capture mixed-size debris–acorns, twigs, dirt, and sand with push-button ease. No hoses or cords needed–run time up to 45-minutes. 
The Pool Blaster® Centennial™ Li has an Advanced Cone Filtration System with XL Debris Chamber. Definitely ideal for In-ground and above-Ground Pools. In short excellent for cleaning small and large debris such as dirt, twigs, sand & silt. You can find The Pool Blaster Centennial at select retailers.
Water Tech – The Pool Innovation People
The Water Tech Corporation is an American manufacturing company and creator of the first-ever cordless Pool Blaster®. Water Tech's rechargeable cordless, hoseless pool vacuum cleaners are the number-one selling in the industry. Sold internationally in 23 countries and, in 2022, celebrates 20 years of innovation. The company's mission is to deliver inventive pool cleaning solutions for homeowners' hot tubs, spas, and in-ground and above-ground pools. As well as for professionals for commercial use – public pools, spas, college universities, and sports facilities. Water Tech products are categorized by "best-fit" for customers' needs by type of use. Noted for USA-based Support Customer Service, visit the Customer Service Portal here. Or, for quick answers to your questions, access the handy fast-access FAQ page. Visit www.watertechcorp.com – "Leveraging a Legacy of Leadership & Pool Innovation."
Stay Up To Date With Water Tech's Battery Powered Hoseless Pool Vacuum Cleaners And Subscribe To Our Newsletter: