Water Tech Leverages a Legacy of Leadership & Pool Innovation
Pool Owners Enjoy An Enhanced Outdoor Lifestyle
The Water Tech Corporation, manufacturer of the original first-ever, cordless, hoseless Pool Blaster® Max™, leverages a legacy of leadership. They have been evolving & expanding pool innovation, technology, and engineering for the last 20 years. What does that mean to you, the customer? Read on. Additionally, they continue to innovate with pool cleaners like the redefined, rechargeable Leaf Vac Recharge for top-side and bottom-dwelling leaves. The company has brought cutting-edge technology expansion to the pool robot cleaning category and industry.
POOL INNOVATION – INNOVATIVE, RELIABLE, AND ENDLESSLY CONVENIENT 
Water Tech is synonymous with state-of-the-art ideas and products, pushing the industry into a new era. Consequently, the company is constantly improving existing products to give customers more convenience with time-saving pool cleaners. Further, they are at the forefront of modernizing the Pool + Spa Industry by initiating new ideas. Most importantly, Water Tech wants to make you proud of your pool with more convenient, technologically advanced products.
And now, the first-ever Rechargeable Volt® Leaf Vac Recharge takes what was a manual chore and creates a powerful, motorized pool cleaner. Above all, the Volt Leaf Vac is the leading cordless skimming for top-side and bottom-dwelling leaves. Moreover, it incorporates a mesh, high-capacity filter bag for spring and end-of-season maintenance efficiency. Likewise, it's perfect for daily maintenance in forested backyards with lots of trees and leaves.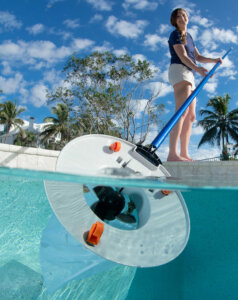 Goodbye Leaves – No Hose, No Filter, No Hassle
The Volt  Leaf Vac Recharge is entirely self-contained. Eliminating alkaline batteries, it has a waterproof, rechargeable Lithium-ion battery. Additionally, a smart water sensor detects when the unit is in or out of water. Consequently, it automatically turns on and off to save battery power and time. Most importantly, it does not rely on garden hose pressure to get the job done. Therefore, it works independently from the pool filtration system. Hence, its "onboard" motor lift leaves off the pool floor and deposits the debris into the high-capacity bag. Most importantly, the Leaf Vac Recharge has a unique Super-Suction Propeller.
The wide-bladed propeller enables the Leaf Vac to pull leaves up and off the pool floor effortlessly. Accordingly, the slowly rotating propeller continuously keeps debris, such as leaves, seeds, and twigs, agitated and moving while creating suction. Subsequently, avoids blockages experienced with "Pressure Side" (garden hose) leaf vacuums. The Volt Leaf Vac Recharge features Water Tech's proprietary Safe-Blade System to assure worry-free operation.
Robotics The Future–Leveraging a Legacy of Leadership & Pool Innovation
Indeed, robotics has remained top of mind since the company's beginnings 20 years ago. Perfecting this cutting-edge technology to Water Tech's high standards remains a primary goal of research and development. The company's Cordless Pool Robot's thoughtful development process means you–the consumer, receive a better-perfected and better-built product.
Further, Water Tech's robots are more convenient than others on the market today, resulting in a better pool cleaning experience. Additionally, all Water Tech's products come with excellent US-based customer service and a minimum two-year warranty.
"Innovative, reliable, and endlessly convenient, our robotic pool cleaners feature proprietary technology. The CX-1  &  550-Li robots autonomously climb walls and effectively clean pools of any size or shape. Keeping your pool free of debris while preserving the aesthetics of your backyard." 

States Water Tech Marketing Director Matthew Chilton.
In short, Water Tech defines the robot pool cleaner category and leads the charge with cordless, hoseless pool cleaners. Advanced waterproof technology allows continuous cleaning with onboard battery and settings. Above all, automated and convenient pool cleaning all week is made possible in ways not previously possible. Further in-house engineering and beta testing advancements are creating bigger, better, longer-lasting robotic pool cleaners.
Water Tech's battered-powered robots deliver pool innovation and convenience, giving your more time with family and friends. The cordless, hoseless Pool Blaster CX-1 and Volt 550 Li Pool Robots continuously clean with its six-day cleaning cycle. Consequently, take pool vacuuming off your chores list. Hence Water Tech's pool robots do the work for you. Just sit back and let it scrub the entire pool right up to the waterline. Therefore, it assists in preventing algae, harmful-causing bacteria, staining, and scaling.
Consequently, you can have a clean pool when needed, especially when unexpected company visits. Additionally, the conveniently located onboard controller is easy to set-up for a 6-day or a one-time cleaning cycle. Water Tech robotic pool cleaners give you more time for backyard entertainment and less time cleaning.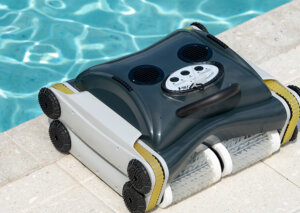 Defining The Future–
​​
Robotics
The Pool Blaster CX-1 and Volt 550 Li feature a high-grade belt and powerful front and back scrubbing brushes. Further, there are no scuff marks due to the soft rubber wheels. A tight weave, large filter bag extracts extremely fine debris without removing chlorine, filtering 7200 gallons of water per hour. In addition, the large cleaning openings capture any pool debris, making it spotless all week. Proprietary technology allows CX-1 and Volt 550 Li to climb walls and effectively clean pools of any size. For example, you can select "Floor Only" or "Floor & Walls," which will climb the walls up to the waterline.
Traditional robot pool cleaners have ugly hoses and cables tethered to a transformer, creating poolside hazards. CX-1 and Volt 550 Li enter the pool on their own power. Simply set it by the pool edge, and turn on the power. It will start up, drive into the pool, and begin your desired cleaning cycle. This is a really cool feature! Above all, these powerhouse machines deliver next-generation convenience, loaded with innovative features and industrial-grade parts for durability. Heads above the competition, this robot is an investment that frees your time to enjoy your pool with less maintenance. In conclusion, lay back and let Water Tech Pool Blaster CX-1 and Volt 550 Li do the work for you.
The Pool Blaster CX-1 is available at

well-known online retailers

, and Volt 550 Li is available at 

select pool retail stores.
Water Tech – The Pool Innovation People
The Water Tech Corporation is an American manufacturing company and creator of the first-ever cordless Pool Blaster®. Water Tech's rechargeable cordless, hoseless pool vacuum cleaners are the number-one selling in the industry, Sold internationally in 23 countries, and, in 2022, celebrates 20 years of innovation. The company's mission is to deliver inventive pool cleaning solutions for homeowners' hot tubs, spas, and in-ground, and above-ground pools  As well as for professionals for commercial use – public pools, spas, college universities, and sports facilities  Water Tech products are categorized by "best-fit" for customers' needs by type of use  Noted for USA-based Support Customer Service, visit the Customer Service Portal here  Or, for quick answers to your questions, access the handy fast-access FAQ page  Visit www.watertechcorp.com – "Leveraging a Legacy of Leadership & Pool Innovation."
Stay Up To Date With Water Tech's Battery Powered Hoseless Pool Vacuum Cleaners And Subscribe To Our Newsletter: