Water Tech Holiday Gift Guide for Pool Owners & People Who Love Pool Days
What To Get The People On Your Holiday Gift List? Pool Blaster & Volt Pool Cleaners Add Convenience For Pool, Hot Tub, Or Spa Owners
Do you know a pool owner, a swimming fanatic, or anyone who loves spending time in or around a pool? Yes, then it's hard to go wrong with a pool-related gift.  Water Tech Holiday Gift Guide has a pool cleaner for every type of pool/spa and price point: the original Pool Blaster, Max Li, Catfish Ultra, & CX-1 Robot.  Additionally, see Pool Blaster Centennial, Aqua Broom, or Volt Spa Vac, Leaf Vac/, & Pool accessories. Keep reading; we've curated our customers' favorites into this year's WaterTech Holiday Gift Guide to satisfy all your pool owner friends.
HOLIDAY WONDERS–Water Tech Pool Blaster & Volt Holiday Gift Guide
The holiday shopping season is upon us, and the vital thing about gift-giving is that the person receiving the gift will find it useful. Though we like to think of the pool as fun, we have to recognize sometimes functional holiday gifts are best. For instance, consider going in on the gift with neighbors or friends. Subsequently, this would be much appreciated for a more expensive gift like the CX-1 Robot pool cleaner. If you're struggling with finding the perfect Holiday gift for that special person in your life, look no further. The Water Tech HOLIDAY GIFT GUIDE below is here to help you. It certainly makes holiday shopping easy this year. From daily to yearly maintenance to general cleaning, you will find something for everyone on your pool list. And let's not forget you!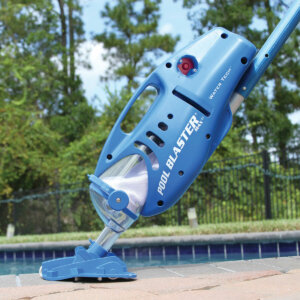 The Water Tech Corporation, the manufacturer of the original first-ever cordless, hoseless Pool Blaster® Max™, makes an excellent gift. Most importantly, our pool vacuum buyers found these three pool vacuums excellent choices for larger to medium debris cleaning.
Pool Blaster Max Li/
The original  Pool Blaster® Max™ pool vacuum cleaner is a perfect gift for pool owners with heavy-duty cleaning needs. Hence it cleans the entire pool in minutes and spot-cleans in seconds. Further, it features a high-flow pump that provides extra power for deep cleaning. Secondly, its high-capacity filter holds more dirt and debris than entry-level cleaners. Undoubtedly this unaffiliated video review from Mechanic Hobby sums it up best in an unbiased look at the Pool Blaster Max Li. Indeed, this gift will leave a memorable impression when it comes time for summer pool parties. 
Catfish Ultra –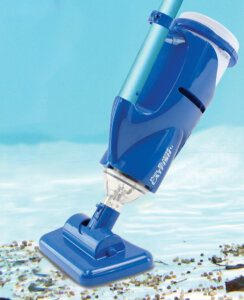 The Pool Blaster Catfish Ultra is an ideal gift for spa/ hot tub/ smaller pool owners. A perfect guest gift, this pool vacuum is suitable for spot cleaning before, after, or during entertaining. Additionally, the 10.5″ vacuum head is removable, exposing an angled head for hard-to-get areas. Conveniently kept at the poolside to use by hand or attached to any standard telescopic pole. The Pool Blaster Catfish Ultra is lightweight, user-friendly, and an affordable gift. For an unbiased assessment, see these reviews from the independent Review Tube and E-Z Test Pool Supply. 
Pool Blaster Centennial Li
,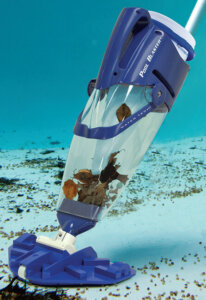 This Water Tech's customer favorite, Pool Blaster Centennial Li, for medium debris pool vacuuming is bound to make an impression. Further, the removable head conveniently makes maneuvering smoothly into corners and crevices; it's also a  powerful spot cleaner.
Additionally, owners appreciate the Centennial canister style's versatility for handheld or attached to any standard telescopic pole. Above all, pool owners love the lightweight, handheld use for last-minute clean-ups. Further, it can capture mixed-size debris–acorns, twigs, dirt, and sand with push-button ease. A delightful gift for Hanukkah or under the tree.
SPA, HOT TUBS & POOLS VACUUMS
These customer favorites are excellent for medium to lite debris cleaning at an affordable gift price. Additionally, they make great accessories in the arsenal of pool owners. Which pool cleaner to gift? In short, we put together this Water Tech holiday gift guide. Further, we include links to help you dig through all the features & benefits of our most popular pool cleaners.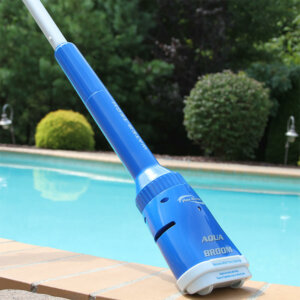 Most Importantly, our customer service can also help answer questions about specific types and models of cleaners. Reach out here: USA-based Support Customer Service; visit the Customer Service Portal here. Or, for quick answers to your questions, access the handy fast-access FAQ page. Visit www.watertechcorp.com
The Pool Blaster Aqua Broom
This Pool Blaster Aqua Broom packs extraordinary power for thorough lite clean-ups of virtually any water application. That is a convenient, affordable pool vacuum for all-types of spas, hot tubs, and fountains. Similarly, the Pool Blaster Aqua Broom is a great spot cleaner for traditional above-ground and in-ground pools. Every pool owner's arsenal of pool vacuum cleaners needs one.  This gift makes a big impact at a very affordable price for the holidays or any time of the year.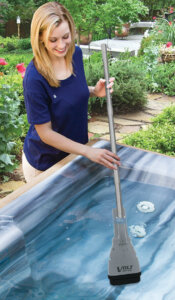 Volt Spa Vac
Clearly, The Volt Spa Vac is necessary for every pool owner's list of pool cleaning equipment. This portable, easy-to-use, quick-cleaning Spa Vac pool vacuum is ideal for hot tubs, spas, and spot-cleaning full-size pools. Above all, the Volt Spa Vac removes lite debris quickly, including leaves, sand, and algae. Furthermore, it has an all-purpose filter bag with a sectional pole; no hoses needed! Therefore you'll want to keep this handy, versatile pool vacuum cleaner poolside at all times.
Worried About Leaves?
Volt Leaf Vac Recharge
Volt & Pool Blaster Leaf Vacs are indispensable pool cleaners, excellent for medium to large in-ground or above-ground pools. Indeed, this is an ideal gift if you have many trees in your neighborhood surrounding a pool. The Water Tech Volt Leaf Vac Recharge does leaf skimming and bottom cleaning. The Volt Leaf Vac is cordless, hoseless, and now rechargeable. Most importantly, it works independently from the pool filtration system.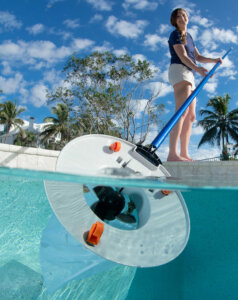 Additionally, a high-capacity filter bag saves time, and the intelligent water sensor turns cleaner on/off automatically. Hence saves pool owners time; they will love you forever for this gift. The Volt Leaf Vac Recharge is an unforgettable gift.
Pool Blaster Leaf Vac
If your gift receiver has trees in their neighborhood, then this skimmer combination pool vacuum is the gift to give. Indeed the Pool Blaster Leaf Vac is a wonderful pool cleaner for medium size debris cleaning. Thus this pool vacuum is most likely the initial cleaner your pool owner friend will use for daily maintenance. Above all, it's lightweight and conveniently attaches to any standard telescopic pool pole. Certainly, the effortless push-button operation and its working independently of the pool filtration system make it an excellent gift choice. In addition, the Leaf Vac can run up to 3 hours on a set of batteries.
Robotics The Future –  A Gift That Keeps On Giving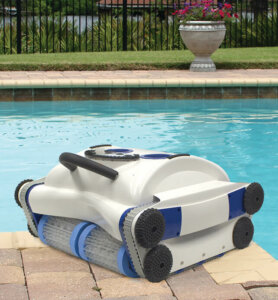 This year, give the gift of time with the  Pool Blaster CX-1 Robot cordless automatic pool cleaner. Robot cleaners are something pool owners only know they're missing out on once they've used one for a season. Additionally, this robot pool cleaner takes the work out of routine pool cleaning, leaving more time to enjoy the pool.
Indeed, Water Tech's battered-powered CX-Robot delivers pool innovation and convenience, giving your gift recipient more time with family and friends. Water Tech Cordless Pool Blaster CX-1 Robot is perfect for large in-ground pools. Above all, this pool cleaning robot's thoughtful development process means your gift recipient receives a better-built product. Consequently, it takes pool vacuuming off the chores list. Hence Water Tech's pool robots do the job.
Moreover, your gift recipient can sit back and let it scrub the entire pool right up to the waterline. Consider going in on this gift with a group of neighbors or friends. The CX-1 Robot pool cleaner would be a much-appreciated gift for yourself too! Imagine this gift sitting under your holiday tree. The Pool Blaster CX-1 is available at well-known online retailers.
Pool And Spa Accessories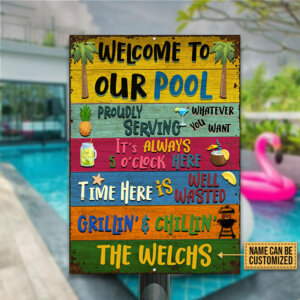 There are so many accessories for your pool we listed a few practical ones for this holiday gift guide. However, we appreciate all those fun, fantastic gift ideas too.  Especially this swimming pool custom metal sign for a fun, affordable gift from Wander Prints. Similarly, our holiday gift guide highlights some affordable ones for your list of pool gifts this year too.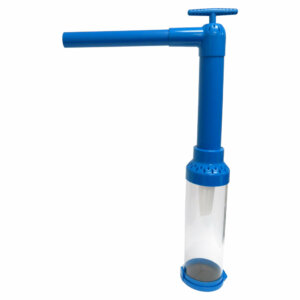 Pool Blaster's Skimmer Vac
Certainly, Water Tech pool cleaners want to take the strain off your filtration system. Hence, Pool Blaster's Skimmer Vac, a hydraulic, easy-to-use manual device, removes debris from any pool skimmer basket effortlessly. For example, watch how this young child uses the Hands-Free Skimmer Basket Cleaner.Most importantly, hands are safe from the 'untouchables,' leaves, twigs, insects, and rodents, instantly removed. Consequently no need to touch the debris, and keep the basket clean. The Skimmer Vac removes debris without removing the pool skimmer basket. In short, it does not expose you to any health and environmental dangers that make their way into a healthy pool.
Pool Blaster Pool Pouch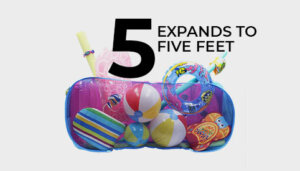 The Pool Blaster pool pouch will store all pool, patio, and backyard accessories. Accordingly, this versatile pool organizer stores floats, balls, inflatable toys, patio accessories, and more. Additionally, the Durable Honeycomb stitched construction makes it ideal for attaching to pool sides, fences, or free-standing. In short an outstanding gift for your OCPD pool owner friends.
Water Tech – The Pool Innovation People
The Water Tech Corporation is an American manufacturing company and creator of the first-ever cordless Pool Blaster®. Water Tech's rechargeable cordless, hoseless pool vacuum cleaners are the number-one selling in the industry, Sold internationally in 23 countries, and, in 2022, celebrates 20 years of innovation. The company's mission is to deliver inventive pool cleaning solutions for homeowners' hot tubs, spas, in-ground and above-ground pools, And for professionals for commercial use – public pools, spas, college universities, and sports facilities. Water Tech products are categorized by "best-fit" for customers' needs by type of use. Noted for USA-based Support Customer Service, visit the Customer Service Portal here  Or, for quick answers to your questions, access the handy fast-access FAQ page. Visit www.watertechcorp.com – "Leveraging a Legacy of Leadership & Pool Innovation."
Stay Up To Date With Water Tech's Battery Powered Hoseless Pool Vacuum Cleaners And Subscribe To Our Newsletter: